DMC Strikes Again with the New Huracan AFFARI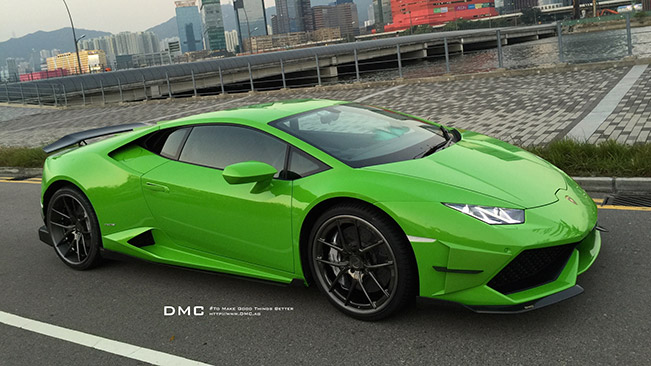 DMC tuning company has been actively involved in tuning the beasts produced by Lamborghini for many years now. Its strong passion for renewing and improving a certain model results in outlining enhanced super-cars which really can blow your mind. DMC final products can be seen as a piece of art all of which stand out with their individuality and assertiveness and just point at themselves saying: "Look at us and beat us if you can!"
When it comes to Lamborghini vehicles, DMC really knows how to break in and subordinate this wild animal. Now the tuning company turns out to be the first to show a complete body kit, wheels and performance package for the brand new Huracan Affari.
The new styling kit created by DMC offers a phenomenal front fascia which is comprised of 2 spoiler lips and unique wide body extensions with aero-swords. The integrated side skirt diffusers have the role to deliver better overall aerodynamics which are supported by the brand-new rear diffusor. The biggest and most notable enhancement of the package is the new rear wing spoiler that is placed on a re-engineered deck lid. The wing can be set to three different angles. By doing this, it provides the driver with a number of custom settings which vary from hard to soft. All of the components are made of carbon fiber.
The Green Goblin, uh, I mean the new DMC Lamborghini Huracan Affari has a boosted power of 630 PS due to the optimized engine electronics, an electronic load pressure control system and a brand new Exhaust system.
The tuner gives this Lamborghini new forged alloy wheels which stabilize and secure the car on the road. Precisely, the DMC rims come in a 20"/21" setup. The front receives a technical set up of 20x8,5J while the rear showcases specs of 21x12J. Finally, DMC is going to use a 245/30r20 / 325/25r21 tire combination with a softer P-Zero application available too.
The finishing touch is the refined interior which is polished with Italian fine leather and carbon fiber materials.
Source: DMC