Dodge Avenger Rally Car
Dodge has released Avenger Rally Car, which is a one-off concept. The car boasts a Brilliant Black exterior with a huge rear spoiler, lowered and stiffened sport suspension. The raid height is reduced with 38mm. The cara sits on 18" alloy wheels fitted with performance Pirelli P-Zero tires.
The interior hass carbon fiber trim, a fully programmable instrument cluster, OMP racing seats, an eight-point roll cage and a fire extinguisher.
Dodge Avenger Rally Car is powered by a 3.6 liter Pentastar V6 with some upgrades – CAI system and high performance exhaust system. The power is boosted to 304PS (224 kW), instead of the factory's 287PS (211 kW).
"Our companies worked closely together to bring this vehicle to life in a joint build that utilizes proven, quality-tested performance parts and accessories from Mopar and Magneti Marelli. We will gauge reaction to this vehicle and determine which parts will go into production.", commented Pietro Gorlier, President and CEO of Mopar.
"This is a purpose-built vehicle with collaborative parts from Magneti Marelli and Mopar," said Dino Maggioni, CEO of Magneti Marelli Aftermarket.
"We selected Magneti Marelli and Mopar parts, adapted them to the Dodge Avenger and made them unique. The result is a fascinating blend of these two iconic brands.", Mr. Maggioni added.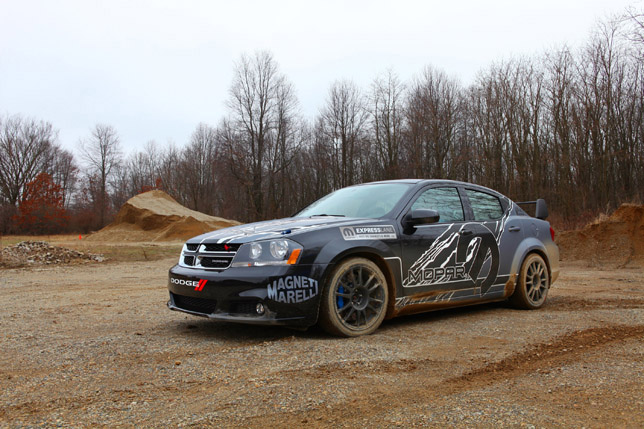 Dodge Avenger Rally Car:
CHASSIS
Stock 2011 Dodge Avenger Heat
INTERIOR
Flat carbon fiber inner door panels
Mopar/Magneti Marelli unique carbon-fiber hydra-graphics center stack
Mopar/Magneti Marelli fully programmable slim racing display with shift lights and alarm multi-color LEDs
Mopar/Magneti Marelli unique carbon-fiber hydra-graphics center console
OMP racing seats, branded Mopar
OMP 5-point racing harnesses
OMP steering wheel with Mopar/Magneti Marelli integrated paddle-shift system
OMP footrests
Mopar full 8-point roll cage
Mopar/Magneti Marelli fire extinguisher
Mopar/Magneti Marelli compact high-performance 1 GB data logger
GPS box with integrated inertial platform with real-time calculation of pitch and roll angles
UNDERHOOD
Dodge Pentastar 3.6-liter V-6 engine
Mopar tower-to-tower cross-car brace
Mopar cold-air intake
Mopar Cat-Back Exhaust w/Magneti Marelli tips
Mopar/Magneti Marelli high-performance ECU with TC, DBW, VVT
BRAKES/GEARBOX
Mopar/Magneti Marelli rally package rear brake system, with hand-operated rally brake
Mopar/Magneti Marelli unique front brakes with 14.25-inch diameter front rotors and 13.5-inch diameter rear rotors
Mopar/Magneti Marelli unique paddle-gear shift
Mopar/Magneti Marelli shift knob
Stock 6-speed 62TE autostick transmission
SUSPENSION
Mopar/Magneti Marelli suspension system, lowering the car 1.5-inches
WHEELS/TIRES
Mopar/Magneti Marelli 18-inch alloy racing wheels
225/650 R18 competition Pirelli P-Zero tires
EXTERIOR
Mopar/Magneti Marelli unique rear spoiler
OMP hood pins
Mopar/Magneti Marelli unique mud flaps
Mopar and Magneti Marelli graphics, with logos from sponsor Shell Lubricants
Mopar Brilliant Black body color
Mopar-First Features Mopar has introduced numerous industry-first features including:
Camper trailers: first to introduce off-road camper trailers
Vehicle-information smartphone apps: first to introduce smartphone vehicle-information applications, a new channel of communication with consumers
Electronic owner manuals: first to introduce traditional owner manuals in a DVD and brief user-guide format
Electronic Vehicle Tracking System (EVTS): first to introduce new vehicle tracking system that sends owner a text when vehicle is driven too fast or too far based on set parameters
2011 Challenger Drag Pak: first to introduce a 500-plus cubic-inch V-10 drag-race package car
WiFi: first to offer customers the ability to make their vehicle a wireless hot spot
WiTECH: first to support vehicle diagnosis and software updates leveraging off-the-shelf personal computers and a dedicated wireless tool network
Source: Dodge