Dodge Releases New Exterior Color Lineup for Charger and Challenger Models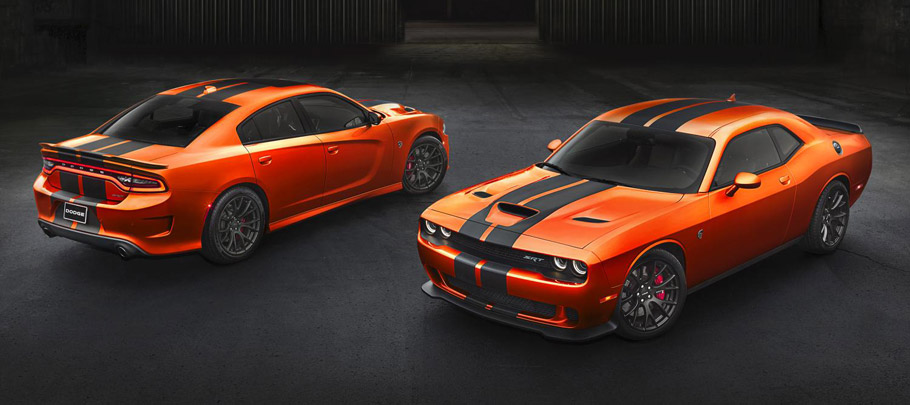 "Plum Crazy" purple, "B5 Blue" and "Sublime" green are the new exterior colors that will further enhance Dodge Charger and Challenger muscle cars' exterior presence. The recently revealed vehicles, coming straight out of the FCA US' Brampton Assembly Plant will rule the streets not only with incredible performance stats, but also with striking visuals.
For the 2016 season Dodge expands the exterior color range with modern version of the Go Mango finish, first shown on the 2016 Dodge Challenger and Charger SRT models, first shown at the 11th annual Spring Festival in Irvine, Calif.
SEE ALSO: Dodge Releases Two Appearance Packages for 2016 Durango Model
The original Go Mango finish was first introduced with the 1970 Challenger and was followed by a limited production run back in 2006 on the Charger R/T Daytona models and was recently put on the 2016 Dodge Dart. This legendary and distinctive exterior color finish combines orange and red tones that together blend to create one-of-a-kind visual impact. Definitely this color enhances the overall sporty and aggressive presence of the vehicle and contributes to that unmistakable Dodge spirit.
SEE ALSO: 2016 Dodge Charger and Challenger SRT Hellcat Vehicles are Ready for New Challenges
Go Mango is already available exclusively on the 2016 Dodge Challenger and Charger models. For Challenger SRT 392 and SRT Hellcat it can be purchased immediately, as well as for the Charger SRT 392 and SRT Hellcat.
Source: Dodge