Dodge Unleashes 2015 Challenger SRT Hellcat [VIDEO]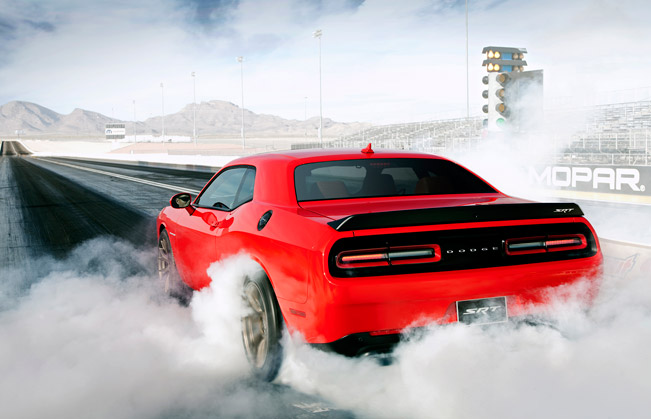 Do you remember that the 2015 Dodge Challenger SRT Hellcat is the most powerful and fastest muscle car ever built? It produces the voluptuous amount of 707 horsepower from its supercharged 6.2-liter HEMI V-8 engine. The unit is mated to a TorqueFlite eight-speed automatic transmission, which also contributes for a certified ¼-mile elapsed time of 11.2 seconds at 125 miles per hour on stock Pirelli P275/40ZR20 P Zero tyres. The big news is that Dodge has just unleashed this "little" beast at very enticing price.
Dodge and SRT have already received more than 4,500 orders for the new Challenger. These units are now leaving the Brampton Assembly plant where they were built and going directly to their customers across the United States.
Besides the unprecedented 707 horsepower (520 kW), the car is also capable of and 881 Nm (650 lb.-ft.) of torque. In addition to the awe-inspiring horsepower, the new 2015 model has been entirely redesigned and re-engineered. The aim: to be the most true-to-form muscle coupe on the market.
Equipped with Chrysler's TorqueFlite eight-speed automatic transmission, the Hellcat Challenger also shows some impressive EPA estimated highway fuel-economy rating of 22 miles per gallon. In addition, if the car is equipped with the new for 2015 six-speed manual transmission, it achieves an EPA highway rating of 21 mpg.
2015 Dodge Challenger SRT Hellcat has an initial price tag of $59,995 USD.
Video Source: YouTube Source: Dodge