You Can Now Purchase the Iconic Dodge Viper ACR

The recently announced Viper American Club Racer (ACR) is obviously ready to go on sale, since Dodge is currently taking orders. The pricing has been also announced and although it comprises of six numbers, it is worth it because this is the fastest Viper ever. It is also street-legal and entirely hand built. In other words, this is the best Viper ever created!
The supercar was introduced for the first time in 1999 and its production continued until 2010. Yes, the ACR can show-off with long-standing legacy as the ultimate street-legal track car built for club racing. This means that the 2016 model year car pays tribute to the performance legacy with its great aerodynamic and suspension upgrades.

Just to remind you, the ACR is equipped with Carbon Ceramic brakes with six-piston calipers and high-performance tires, which were specifically created for the ACR. They are called Kumho Ecsta V720 and come in the size of 295/25/19 up front and 355/30/19 at the back. They are so good that make the car achieve 1.5 seconds faster lap times than off-road only race tires
SEE ALSO: The Return of Dodge Viper ACR Supercar
Other exclusive features which are included as a standard here are the Bilstein coil-over racing shocks which offer 3 inches of suspension height adjustment. This Viper is powered by 8.4-liter V-10 engine generating 645 horsepower (474 kW) and 813 Nm (600 lb.-ft.) of torque. Not to mention that this it he most torque of any naturally aspirated sports-car in the world.
Some of the best features inside are the manual seats, which were designed to maintain optimal 50/50 weight distribution as well as the one-off Alcantara upholstery.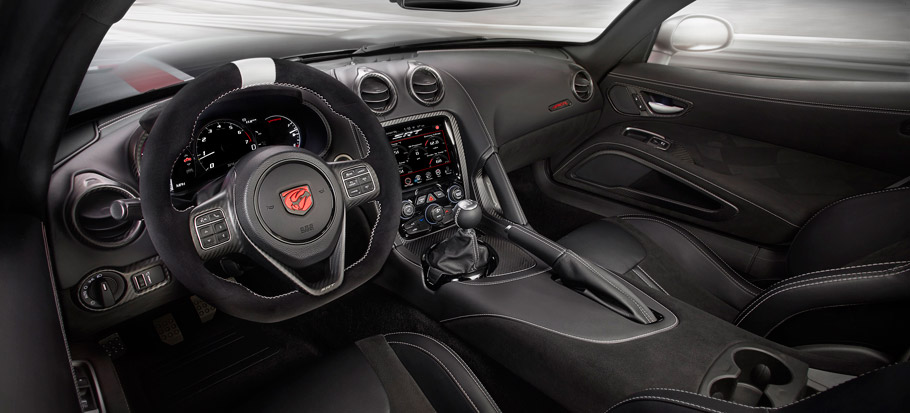 There is also an optional ACR Extreme Aero Package that adds carbon fiber rear wing, rear diffuser from the same material, unique SRT hood with removable louvers, detachable extension for the front splitter and additional dive planes.
And if you wonder about the pricing of this beautiful car, well let's spill it: it is $117,895 USD. Dodge has also announced that its production will begin in third quarter of this year at the Conner Avenue Assembly Plant.
Source: Dodge