Ecoflex Zafira Gets Green Light With New Engine
Using a new-to-range 1.7-litre advanced diesel engine emitting combined emissions of just 139g/km, Vauxhall's latest addition to the Zafira line-up has all the right credentials to become the first ecoFLEX model in the range.
This ultra-low emissions figure also means that it's one of the greenest and most fuel efficient seven-seat compact MPVs on the market.
And with its lower emissions, the ecoFLEX is the first Zafira to enter Band C for Vehicle Excise Duty – costing just £120 per year – while its BIK tax for company car drivers drops four levels to 18 per cent, the lowest taxation class for a seven-seater car in the UK.
The ecoFLEX also gains a significant improvement in fuel consumption compared with other models in the range. With a Combined figure of 53.3mpg (47.1mpg for the 1.9 CDTi), this Zafira now has a theoretical range of 680 miles, meaning fewer trips to the pumps and less damage to drivers' wallets.
But as with Vauxhall's other ecoFLEX models, turning greener hasn't impacted on its performance. The 1.7 CDTi engine – which can also be found in the recent Astra ecoFLEX – produces 110PS and 260Nm of torque, giving acceleration of 0-60mph in 12.6 seconds and a top speed of 112mph. A different final drive ratio also raises the gearing, improving both fuel economy and offering a more relaxed cruising gait.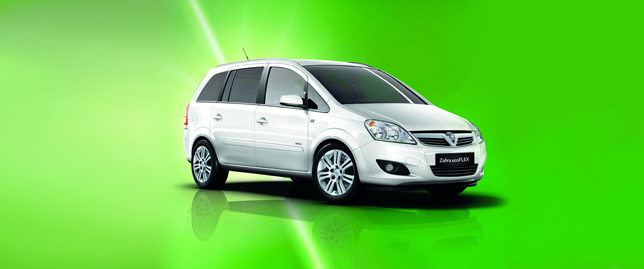 With a starting price of £17,310 for the Zafira Exclusiv ecoFLEX, buyers will pay a mere £100 premium over the equivalent 1.9 CDTi 120PS model. But since all Zafiras are available with Vauxhall's 'You Pay, We Pay' deal, buyers benefit from zero per cent interest from two to four years (with no deposit to pay on the two year package) while also collecting a cheque equivalent to five per cent of the amount financed.
As well as Vauxhall's clever Flex7 seating, allowing the ecoFLEX to be transformed from a capacious load-lugger to seven-seat people carrier in a matter of seconds, six full-size airbags, an anti-lock braking system (ABS) and radio/CD player are standard on all of its five trim levels.