Ferrari with Best Performance Engine at the 2011 International Engine of the Year Awards
The brilliant 4.5 liter naturally aspirated V8 powering the Ferrari 458 Italia has won two prizes at the 2011 International Engine of the Year Awards.
The two awards are in categories - Best Performance Engine and Above 4.0-litre. The awards were received by Jean Jacques His, head of Ferrari powertrain department. The jury has also praised the brutal unmistakable sound of the power unit.
The engine is dry-sump, flat-crank 90 degree naturally aspirated V8 with a volume of 4499 cc. It has a high 12.5:1 compression ratio and maximum power output of 570PS. This means an outstanding power output of 127 PS/litre. The red line is at whopping 9000RPM.
The engine also creates a lot of torque – 540Nm at 6000RPM, with over 80% available from 3250RPM. The specific torque output of 120 Nm/l is another record.
Last, but not least, the 4.5 liter V8 produces a best-in-class 275 g/km of CO2 with fuel consumption of just 11.8 l/100 km.
Just brilliant! Check out the engine specifications, below!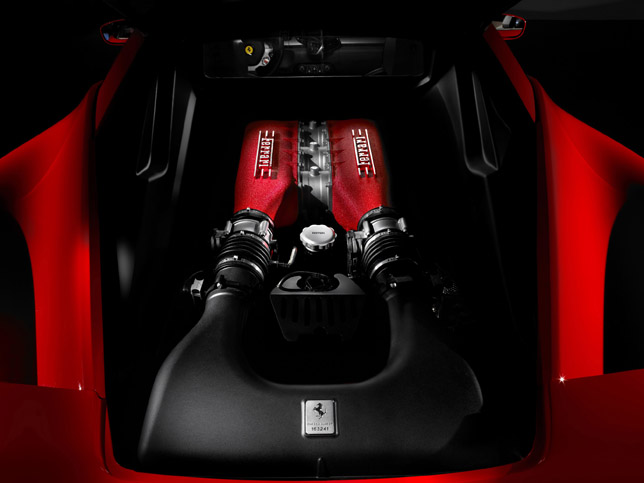 458 Italia engine technical specifications
Engine
Type
V8 - 90°
Total displacement
4499 cc/274.5 cu in
Bore/stroke
94x81 mm/3.7x3.2 in
Maximum power
425kW* (570CV*) @ 9000 rpm
Maximum torque
540Nm (398lbs/ft) @ 6000 rpm
Specific output
127 CV/litre/1.55 kW/cu in
Maximum revs per minute
9000 rpm
Compression ratio
12.5:1
Performance
Maximum speed
>325 km/h/>202 mph
0-100km/h (0-62mph)
<3.4s
0-200km/h (0-124mph)
10.4s
0-400m (0-437 yards)
11.3s
0-1000m (0-1093 yards)
20.3s
100-0 km/h (62-0 mph)
32.5 m/106.6ft
Dry weight/power ratio
2.42 kg/CV/7.16lb/kW
Fuel consumption and CO2 emissions
Fuel consumption** (European market version)
11.8 l/100km
CO2 Emission** (European market version)
275g CO2/km
* Including 3.7 kW by ram effect
** ECE+EUDC combined cycle with HELE system
The category winners are:
Best New Engine 2011 Fiat 875cc two-cylinder (Fiat 500 (85bhp))
Best Green Engine 2011 Fiat 875cc two-cylinder (Fiat 500 (85bhp))
Best Performance Engine 2011 Ferrari 4.5-liter V8 (458 Italia 570bhp)
Above 4-liter Ferrari 4.5-liter V8 (458 Italia 570bhp)
3-liter to 4-liter BMW 4-liter V8 (M3 420bhp)
2.5-liter to 3-liter BMW 3-liter DI Twin Turbo (135i, 1 M Coupe, 335i, 535i, X3 35i, X5 35i, X6 35i, Z4 (306bhp, 340bhp), 640i (320bhp), 740i (326bhp))
2-liter to 2.5-liter Audi 2.5-liter five-cylinder turbo (Audi TT RS, RS3 340bhp))
1.8-liter to 2-liter BMW Diesel 2-liter Twin Turbo (123d, X1 (204bhp))
1.4-liter to 1.8-liter BMW 1.6-liter four-cylinder Turbo (Mini Cooper S, Clubman Cooper S, Countryman Cooper S (184bhp), Mini Works, Clubman Works (211bhp))
1-liter to 1.4-liter Volkswagen 1.4-liter TSI Twincharger (VW Polo 180bhp), Golf, Scirocco, Eos, Jetta, Tiguan, Skoda Fabia RS (180bhp), Touran (140, 170bhp), Seat Ibiza/Cupra (150bhp, 180bhp), Alhambra (150bhp), Audi A1 (185bhp))
Sub 1-liter Fiat 875cc two-cylinder (Fiat 500 (85bhp))
Source: Ferrari