Ferrari California T is Tailor Made for Goodwood

Ferrari California T "Tailor Made" will be the most exclusive vehicle in Ferrari's lineup at Goodwood Festival of Speed. The car has been created specifically under the so called "Ferrari Tailor-Made" personalization programme from Maranello. As a matter of fact, the programme was developed for clients who wish to drive bespoke and extremely individual cars.
Exterior
The modifications on this Ferrari took inspiration by the passion and colors of the Polo and Horse racing. This California T is painted in Bianco Italia paint scheme, which has been applied in three-layers. There is also Blu Hellen double-asymmetric stripe that gives a sense of extra sportiness.
SEE ALSO: Ferrari Revealed the Stunning 2015 California T
Last but not least, the wheels of this California T have been also taken care of. They have been finished in Blu Hellen and Argento Nurburgring and come in the dimension of 20-inch.
Interior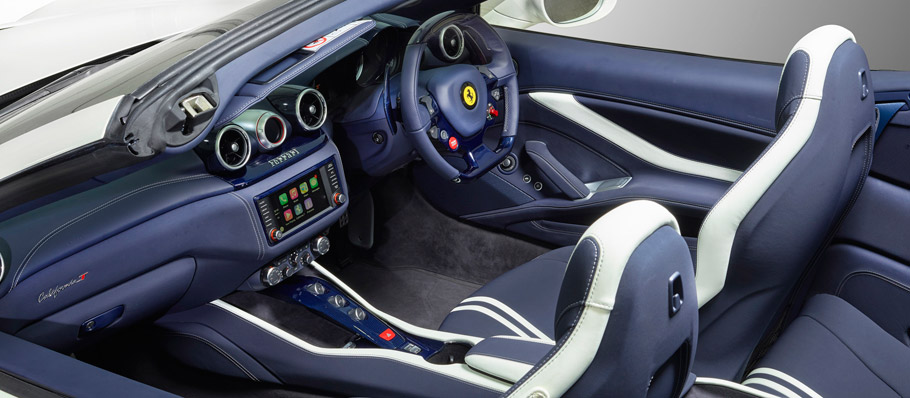 The blue color is then mirrored throughout the entire interior via the luxurious Blu Sterling upholstery. To make the overall design of the car even more harmonious, the experts at Ferrari added Bianco elements and highlights.
This particular Ferrari California T Tailor Made features new high-tech "Mycro Prestige" fabric material. It has been crafted exclusively for Ferrari. The material is highly resistant and offers an exceptional level of grip. This is because it is comprised of unique mixture of fibers that are only 0.7mm thick.
This also contributes for the reduction of one-third of the weight of the traditional leather. Other benefits are that the Mycro Prestige fabric is flameproof, water resistant, but porous and breathable.
Ferrari California T "Tailor Made" will be on display inside the Ferrari VIP hospitality enclosure for Ferrari clients. This is also where they will have the opportunity to see a comprehensive Tailor Made display of materials. The only aim is to inspire clients in taking action in personalizing their own Ferraris.
Source: Ferrari