Ferrari contributes to rebuilding the Abruzzo region after the devastating earthquake
Ferrari has announced that it will offering a very special car at the RM Auction due to be held this coming Sunday. The car, the very last F430 to leave the production line towards the end of this year, will be auctioned to raise funds for rebuilding in Abruzzo, central Italy, which was devastated by the earthquake on the 6th of April. Ferrari will liaise with the local authorities to ensure that the funds will go towards the most needy.
The F430 will feature a special two-tone livery which recalls the traditional colours of Aquila, the city most hit, and will be consigned with a certificate signed by Ferrari Chairman, Luca di Montezemolo, with a personalised dedication plate to commemorate the generous donation.
The client adjudicating the car will be invited to Maranello to choose the final specifications and Ferrari has also offered to equip the car with a number of options from its extensive Carrozzeria Scaglietti catalogue.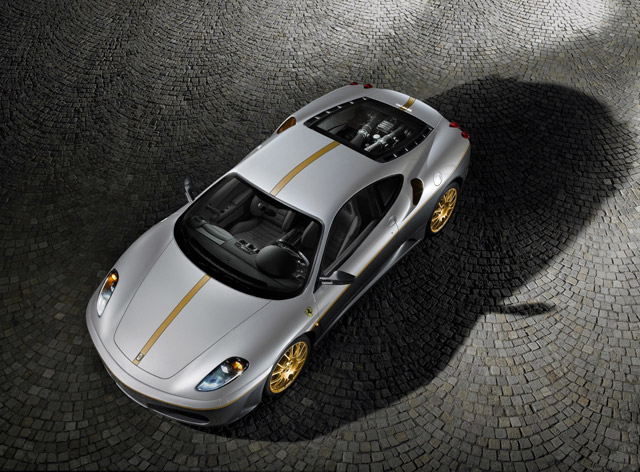 The F430
First launched in 2004, the F430 represents the peak of Ferrari's development of the mid-engined V8 berlinetta. Every inch of the car was inspired by the engineering research carried out at Ferrari's Gestione Sportiva F1 racing division. The result is a highly innovative car that offers outstanding performance thanks to cutting-edge technology, such as the electronic differential (E-Diff ), initially developed by Ferrari for its F1 single-seaters, and the manettino switch on the steering wheel which directly governs the vehicle's dynamic set-up.
Technical specifications Engine type 90° V8 Total displacement 4308 cc Compression ratio 11.3:1 Maximum power 360.3 kW** (490 CV) at 8500 rpm Maximum torque 465 Nm (343 lb/ft) at 5250 rpm Gearbox F1 paddle shift Kerb weight 1450 kg (3196 lbs)* Length 4512 mm (177.6 in) Width 1923 mm (75.7 in) Height 1214 mm (47.8 in) Wheelbase 2600 mm (102.4 in) Maximum speed over 315 km/h (196 mph) 0-100 km/h (62 mph) 4.0 s Fuel consumption 15.2 l/100 km* (combined cycle) CO2 emissions 345 g/km* (combined cycle)
* European market version ** For reasons of homogeneity, engine power is expressed in kW, in accordance with the International System of Units (SI). The brake horse power (bhp) can be calculated as follows: 1 kW = 1.34 bhp