Fiat Punto MY2012
The MY2012 Fiat Punto range offers unrivaled diversity that is intended to fit every need a customer might have. New trim levels, exterior revisions, paint finishes and ten engine choices among which the brilliant TwinAir "International Engine of the Year 2011" are all in store for us in the coming year.
Yes, the legendary 2 cylinder TwinAir drivetrain is set to join the lineup that Spring. Despite being only 0.9L big it develops 85 hp (supercharged) and 145 Nm of torque. The cost in carbon dioxide emissions for all of that stands at 98 g/km. But it's not green just because it's small. A clever button on the dashboard (it says Eco on it, It must be clever) allows the driver to change the switch the engine's mode of working between normal and Eco with the latter one restricting torque output and thus becoming super economical. Stop&Start with Gear Shift Indicator technology is used in every single EURO5 engine throughout the Punto range. With it one can save up to 15% fuel in an urban area. Even more feats of greenness can be seen in the 85 HP 1.3 MultiJet 2 unit where two innovative systems (Intelligent Alternator and Intelligent Flow) work together along with the use of low-viscosity transmission oil to achieve stunning emission figures ( 90 g/km of Carbon Dioxide). The Intelligent Alternator system optimises the battery recharging strategy during the "engine cut-off" phases, while the Intelligent Flow represents an oil pump with variable displacement and it also does optimisation of the cooling circuit. Other than these, the list of engines goes on and one is unlikely to make a mistake no matter the choice:
Petrol
69 HP 1.2 8v E5 (with and without Start&Stop)
77 HP 1.4 8v E5 Start&Stop (mechanical or Dualogic gearbox)
105 HP 1.4 MultiAir 16v E5 Start&Stop
135 HP 1.4 MultiAir Turbo 16v E5 Start&Stop
Diesel
75 HP 1.3 MultiJet 2 16v E5 (with and without Start&Stop)
95 HP 1.3 MultiJet 2 16v E5 Start&Stop
Bi-Fuel
70 HP 1.4 8v petrol-methane E5
77 HP 1.4 8v petrol-LPG E5
In Italy, the Fiat Punto is sold in three lines: Comfort, Sport and Fun to Drive. Those lines have sub-levels. The Comfort splits into Pop, Easy and Lounge trim levels – dedicated to the traditional customer focused on comfort and style. The Sport line has the Racing and Sport trim levels – the Puntos are more dynamic and performance oriented. Then there's the Fun to Drive which has the TwinAir trim level that is a sort of a tribute to the TwinAir engine. The trim is distinguishable by the glossy black pillars and mirror covers, special alloy wheels, 13 exterior colours, one of which is dedicated, Energetico Green, the exclusive glossy black roof option and special "Sportex" seat fabrics.
Further on, throw in some revised front and rear bumpers with body coordinated finishes. Reposition the turning signals, refurbish the interior in some new upholstery and add to that two pairs of 15" alloy wheels and you have a MY2012. It still gets the heart pumping as if it is an absolute debut. We want one please.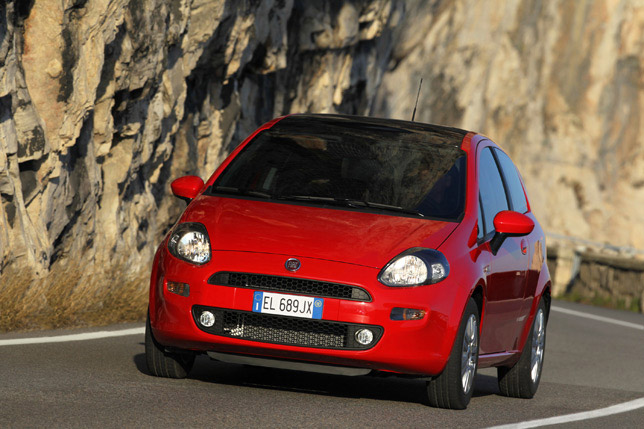 Source: Fiat