Fostla Wrappings Audi RS6R MTM
An Audi RS6 Avant that has been touched by the skillful hand of MTM and then wrapped around with foil (increasingly popular these days) by Fostla.
By boosting the power up to 759 hp and 912 Nm of torque, MTM have created a significant distance from the "standard" RS6 which has "only" 571 hp and 650 Nm of torque coming from it's 5.0-liter V10 FSI Turbo (Gallardoesque) engine. That's why this one is actually called the Audi RS6...R. Anyway. Other non-stock features include the valve controlled exhaust system, the sports catalysts, RS5 9x20 ET29 rims equipped with 275/35R20 tires and a body kit comprising of a front lip spoiler and a rear diffuser. The end product is good for a top speed of 348 km/h – enough to peel the paint off.
But, what is actually on the surface of the body is foil. An anodized matt blue metallic PWF... something to be more exact. It's been made by Fostla Wrappings and costs 2,500 Euros ($3,149). I know, but you also get tinting of the head and tail-lights. Still not buying it? Me neither.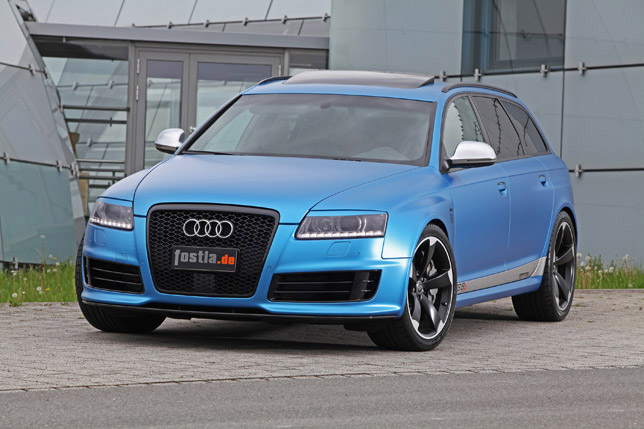 Source: Fostla Wrapping