FPV Ford Falcon GT RSPEC Limited Edition Series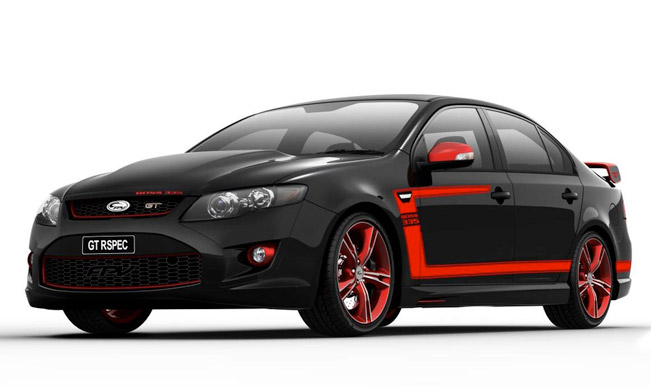 Ford Performance Vehicles, or mainly known only as FPV, has just launched the new FPV Ford Falcon GT RSPEC Limited Edition Series. The vehicle is based on Ford Falcon GT and has been developed to deliver racetrack-inspired handling.
The limited edition FPV includes considerably recalibrated suspension package, new wider 9inch rear wheels with 275/35 R19 Dunlop Sports Maxx tyres and Launch Control.
The exterior styling of the car is undoubtedly inspired by the legendary 1969 Boss Mustang judging by its unique stripe package and paint treatment. Despite the inspiring new outlook of the car, under the bonnet the new GT RSPEC is unchanged. It stays powered by FPV's all-aluminium 'Miami' BOSS 335 5.0-litre supercharged engine.
This new model was created with the aim to optimize the amazing performance of its now legendary 335kW 5.0Lt supercharged V8 engine by the means of improving the chassis' capabilities, to deliver the ultimate driving package.
In details, what has been done here is that the rear suspension of the GT RSPEC is now modified and has higher spring rates, re-tuned dampers, larger anti-roll bar, and reinforced rear lower control arms. At the same time the front suspension has stiffer upper control arm bushes, stiffer front upper suspension strut mounts, and re-tuned dampers.
The cornering grip is now improved due to the new 9" rear wheels in combination with the 275 tyre. Also to this adds the improved traction during launch and when exiting corners. A modified toe setting on the rear wheel alignment also delivers bettered turn-in response.
Furthermore, the stiffer transmission and driveline movement under load make the perfect driving quality, while the addition of Launch Control delivers consistent performance when accelerating from rest, reducing the amount of wheel slip.
One-of-a-kind exterior features here are the lower and upper grille surrounds, fog lamp bezels, mirrors scalps, high performance spoiler with GT decal, and black painted exhaust tips. A distinctive GT RSPEC badge can be seen on the lower left hand side boot lid.
How about the interior? Here one can see shadow leather sports seats with GT logo embroidery, which are complemented by a piano black finish around the ICC unit, tissue box and door spears.
FPV Ford Falcon GT RSPEC Limited Edition Series is limited up to only 350 units and will be available in four color combinations. Exactly 175 of those committed to the "hero" color scheme of Silhouette (black) with Vixen (red) accents. The other 175 units will be made up of Winter White, Vixen (red) and Kinetic (blue) with Silhouette (black) accents. The starting price of this FPV model will begin at $76 990.
Source: FPV