Geneva Motor Show: 2013 Volkswagen Golf Estate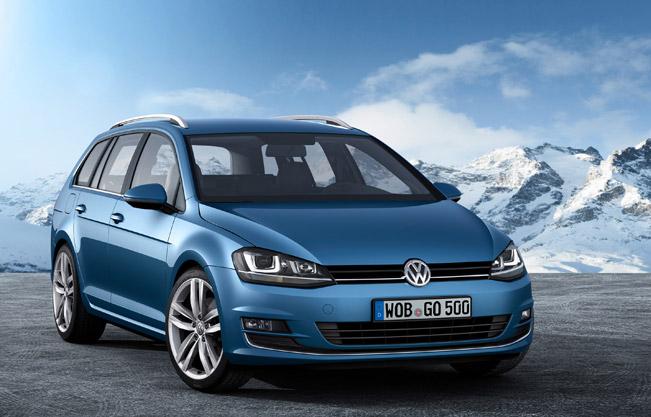 2013 Volkswagen Golf Estate is making a first world appearance at this Geneva Motor Show. The model has been present on the automotive market for twenty years. This Volkswagen model resembles the Golf hatchback but is based on the MQB platform and in addition is up to 105 kg lighter than its predecessor.
Furthermore, for the first time the Golf Estate will be available as a full BlueMotion model as well, with a combined fuel consumption of just 85.6 mpg which is equivalent to 87 g/km of CO2.
What also has to be highlighted is that its boot volume has been expanded from the 505 litres of itspredecessor to 605 litres. This means that when it is loaded up to the front seat backrests and under the roof, it delivers a cargo volume of no less than 1,620 litres.
Moreover, in terms of exterior visual attributes, the new Golf Estate closely follows closely the lines of the Golf hatchback model. It has a total length of 4,562 mm, and visually the "third" side window forms a part of the D-pillar. The result is more sporty appearance.
There are also available a variety of engines. First of all, the derivative BlueMotion utilizes a 1.6-litre diesel engine producing 110 PS (80 kW) and is mated to a six-speed manual gearbox. The petrol engine line-up here begins with a 1.2-litre TSI 105 PS (77 kW), rising via a 1.4-litre TSI 122 PS (90 kW) unit to a 1.4-litre TSI ACT 140 PS (103 kW) engine with cylinder deactivation.
Additionally, two other diesel-engine models will be offered: a 1.6-litre TDI 105 PS (77 kW) and a 2.0-litre TDI 150 PS (110 kW). Prices and specification will be announced closer to the on-sale date.
Source: Volkswagen