GKN Driveline's High Performance Products For New Mitsubishi Lancer Evolution
Mitsubishi Motor's highly acclaimed all-new Lancer Evolution has key new driveline components from GKN Driveline Torque Technology. The all-wheel-drive Lancer Evolution has an upgraded power transfer unit (PTU) – the car's "Active Centre Differential" - with industry-leading torque capacity. The high-end RS version fits an enhanced multi-plate limited slip differential (LSD) Active Yaw Control (AYC) at the rear to help the dynamic transfer of the 4WD car's 422 Nm @ 3500 rpm (or, 366 Nm @ 3,500 rpm for EU specifications) of torque to the road. The new Mitsubishi Lancer Evolution is branded X in UK and Japan markets.
Graeme Walford, managing director, GKN Driveline Torque Technology said: "Mitsubishi Motors with this latest generation of their Lancer Evolution sought to significantly improve drive and handling dynamics with an advanced, leading edge driveline system. I am proud to say that our teams in Tochigi and Nagoya rose to Mitsubishi's challenge of delivering the increased power and torque to the four wheels within the same size unit package as for the previous model."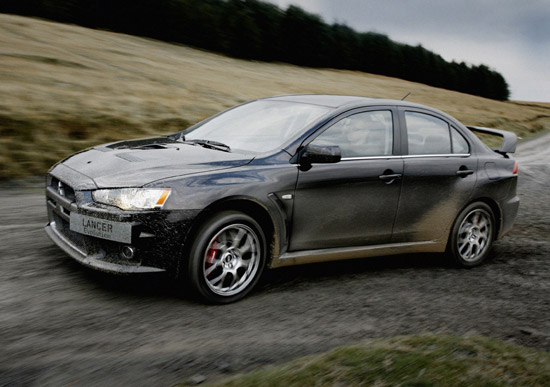 GKN Driveline's high performance PTU can manage more than 800 Nm of torque, much more than on previous Lancer Evolution models. The unit is a compact and lightweight assembly that includes a built-in helical LSD for the front wheels and an electronically controlled, hydraulically actuated clutch pack that acts on the centre differential (fitted in the transmission).
"The new Lancer Evolution unit is arguably the highest performance PTU in the world and together with the two GKN Driveline LSD's demonstrates the unique product contribution that GKN Driveline offers customers seeking advanced vehicle dynamics in such competition-bred cars", Graeme Walford added.
GKN Driveline's rear multi-plate LSD Active Yaw Control significantly enhances the dynamics of the Lancer Evolution and at the same time improves traction and stability. GKN Driveline's highly durable LSD provides a superior response and higher mechanical efficiency.