GTA Concept, Ready for its Official Launch
The GTA Concept, the supersportcar manufactured by the Spanish company GTA Motor, has realized its last tests on track for its official launch in the last days of April, date on which it's definitive name will be revealed.
A limited edition of 99 units of this car will be produced. Designed by the engineer director of GTA Motor, the valencian Sento Pallardo, it is characterized for the exclusivity of its look and its high perfomance.
The several tests realized until now have been a success. This supersport car will have a great performance, with an acceleration from 0 to 100 Km/h in under 3 seconds and a top speed  of over 350 km/h, numbers that show its potential.
The experience in competition has been a key ingredient for the development of this car, that has five world patents. The chassis has been created combinating Kevlar, and carbon fibers as well as titanium. The engine is a V10 mounted in a longitudinal rear position and has 780 horsepower and 920 nm of torque. The car has a seven speed sequential- manual geabox, with the option of automatic system with paddle shift in the steering wheel.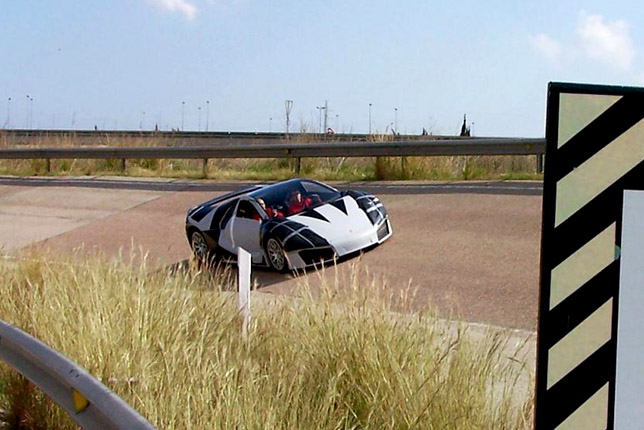 The suspension has a double wishbone configuration with multiregulation shock absorbers to choose the ride hardness and the possibility to raise the bodywork.
The tires are the latest Pirelli Pzero wich measure 255/35 on a 19 wheel at the front and 335/35 on a 20 wheel at the rear. The wheels are manufactured exclusivity  for this car.
The braking system contains ABS  with 380mm diameter carbon ceramic ventilated disc brake system and 6 piston callipers manufactured by AP Racing. The glass panoramic roof gives it  an open air feeling while being sporty and elegant. The roof has a patented system of interior lighting and liquid crystal shading.
The Project, directed by Domimngo Ochoa the GTA team manager, began three years ago and has reached distribution agreements with the most relevant dealers in the world. After the proyect was published one year ago the GTA Concept is now a reality.
Domingo Ochoa: "We published the proyect for everyone one year ago, after  developing  it technically and logistically for two years before hand. Now, after a hard and exhaustive job, we are going to show the results. We are convinced that it will be a car that will set a precedent  in the international automobile scene. We are very proud and everyone will enjoy our dream that  will come true very soon".