Heico Sportiv Volvo V40 Cross Country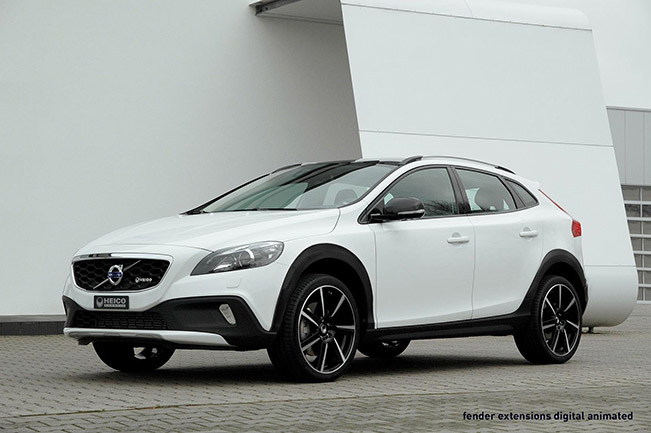 Heico Sportiv has unveiled their latest project based on the Volvo V40 Cross Country. The crossover comes with a lot of styling upgrades and two performance packages.
"With persistent demand from our customers and dealerships, we turned to developing components specifically for the Volvo V40 Cross Country that promote and enhance its features and character," commented HEICO SPORTIV General Manager, Holger Hedtke.
The tuning company has fitted the model with a Cross Chassis sport suspension increasing the ride height by 30mm. There are also 8-piece fender extensions resulting in more rugged look.
There are two performance packages – the 2.0 liter D3 four-cylnidner engine is boosted to 195HP (143 kW) – an increase of 45HP and the 2.5 liter T5 five-cylinder now has 268HP (197 kW), which is 19HP more than normal. 0-100 km/h in less than 6.0 seconds and a top speed of over 210 km/h (131 mph).
Other upgrades by Heico Sportiv include aluminum paddle shifters and a Speedpack that increases the model's top speed. Last, but not least are the Volution 19" alloy wheels fitted with 235/40 R19 tires.
Source: Heico Sportiv