Henrik Fisker Shows Sketch of Next American Super Car "The Force 1"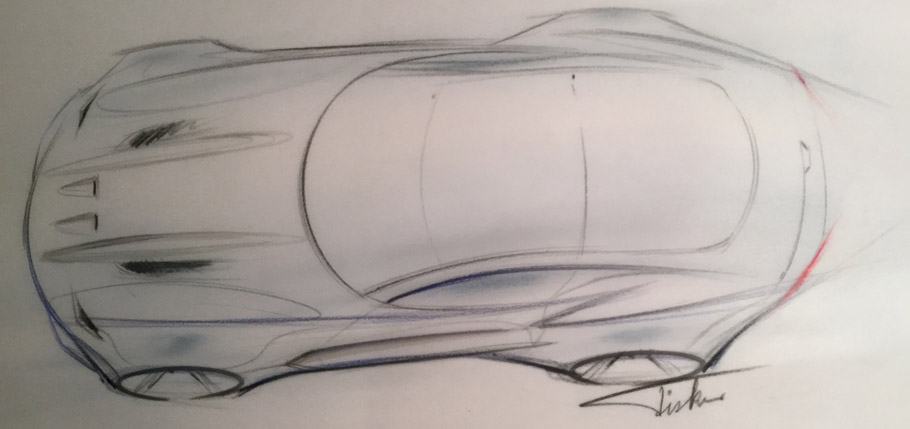 Inspired by Star Wars or not, Henrik Fisker just teased a future project called "The Force 1". We haven't received any computerized image with it, but a hand sketch of the machine depicted from above. And the good news is that we don't have to wait very long for the Force 1 to debut, because it will do that at the North American International Auto Show in January.
This high-performance vehicle is an American take on a super sports car that will be driven by a powerful powertrain and will feature "dramatic sculptural exterior styling". Other details revealed here include Ultra Thin Ventilated (UTV) laser blade tail lamps and a luxurious contemporary interior… for two.
SEE ALSO: Henrik Fisker Shows-Off with Vanquish Based Thunderbolt Concept
Fisker also said that car's body will be made from carbon and will sit over huge 21-inch wheels. Even the tires have been announced and they are Pirelli P Zero. What is more, they will be controlled by a one-off new active suspension.
By the way, the car will be driven by a front/mid engine and the secret here is that it will feature one of world's highest outputs in a road car. The six-speed manual transmission or optional paddle shift auto box will drive the rear wheels.
This American car has been in development for the latter part of 2015. In the process take part a lot of important people, including an acclaimed American race car driver and his team. Force 1 will be manufactured in Michigan/USA and sadly its production will be limited up to 50 units. The production start is expected to begin in April next year.
The Force 1 will be priced at $300,000 USD.
Source:  Fisker