2012 Honda Civic Natural Gas
Honda Civic Natural Gas is the latest production project of the brand, which has been designed especially to raise the ecological awareness around the globe. Honda made a further step in this direction, by presenting the keys of a 2012 Honda Civic Natural Gas to Anaheim Ducks NHL star George Parros. By his positive influence and personal example, the manufacture is confident that Parros will create awareness of the vehicle amongst his Ducks team-mates and fans.
Furthermore, the car has already been awarded a green car of the 2012 year. The 2012 Honda Civic Natural Gas is the only OEM-built, CNG-powered passenger car for sale in the United States. Examples of it are available at 197 dealers around the country. In details, the vehicle is powered by the cleanest internal-combustion engine, which is in addition certified by the U.S. Environmental Protection Agency (Tier-II, Bin-2 and ILEV certification). It also qualifies for a state-issued decal allowing single-occupant access to High-Occupancy Vehicle (HOV) "carpool" lanes. Moreover, the all-new 2012 model includes enhanced exterior and interior styling, improved fuel economy and a refueling price typically 30 percent less than gasoline! Significant features aren't they!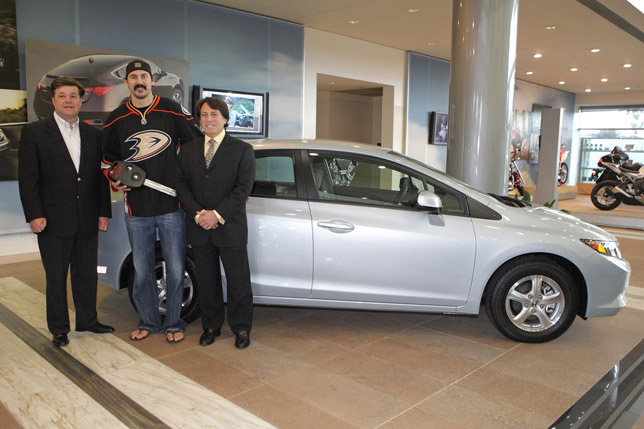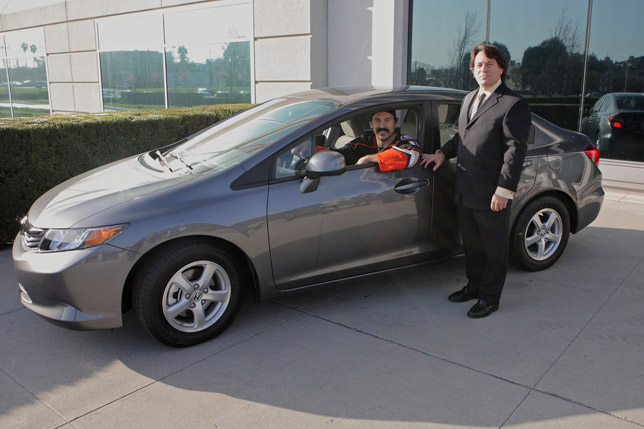 Source: Honda