2015 Honda Civic Sport Unveiled Ahead of Paris Debut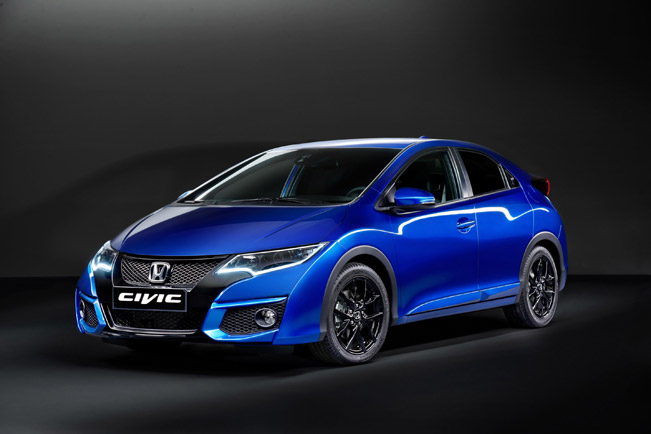 Just ahead of the 2014 Mondial de l'Automobile in Paris, Honda has released the first details and images of the revised 2015 Honda Civic Sport. In general there are enhancements made across the entire Swindon built 2015 Civic model range, which will be revealed on 2nd of October when the show starts. First, both the Civic and Civic Tourer have new front exterior design. They look sportier due to the addition of new headlamps with integrated daytime running lights and a new sleek front bumper. The hatchback model also features LED rear combination lamps as well as new rear bumper, side skirts and rear spoiler finished in black.
Inside, the 2015 models also receive a specification upgrade. There are used new seatfabrics and stitching on the headrests, new door trims with chrome door handles and a control panel, which is finished in a metallic black. The interior is cosy and spacious, and still keeps its class-leading interior space. In fact, Civic's 477-litre and Civic Tourer's 624-litre boot capacity remain the best in their respective segments.
To the range will be also introduced the Honda Connect in-car audio and information system. It delivers convenience and connectivity for the occupants whilst on the road. The system includes key features such as AM/FM, DAB and Internet Radio, Bluetooth connectivity, internet browsing, satellite navigation and rear-view parking camera. Furthermore, this system runs Android 4.0.4 and features the familiar pinch, swipe and tap functionality of a smartphone on a seven inch display screen.
The star of the show will be the Civic Sport derivative, which has been based on the Civic hatchback. The car is driven by the 1.6-litre, 120 hp (88 kW) diesel engine or the 1.8-litre, 142 hp (104 kW) petrol unit.
It stands out from the crowd thanks to its colour-coded rear spoiler and 17-inch alloy wheels that are unique to the Sport derivative. More importantly, Honda disclosed that the Civic Sport echoes the striking design of the forthcoming Type R with a new front bumper featuring a lower grille mesh and a black roof lining for the cabin.
Every single model in the updated Civic range will benefit from the addition of Honda's City- Brake Active (CTBA) system as standard. CTBA was specifically designed to help avoid or mitigate low speed accidents. It operates at speeds below 30 km/h and utilizes radar technology to scan the road ahead, automatically applying the brakes if a risk of collision is detected.
Source: Honda