New independent warranty for modified Porsches
The security of a comprehensive warranty, backed by the Automobile Association (AA) and TECHART, the world's leading specialist Porsche tuner, is now available to all owners of Porsches fitted with high quality upgrades. The new warranty is available through Tech9, UK agent for TECHART and (subject to an inspection at Tech9's Motorsport Centre) can cover any modified Porsche more than two years old.
"Owners of modified cars are increasingly having difficulty obtaining extended warranties, leaving them exposed to the cost and inconvenience of mechanical breakdown," explains Phil Hindley, managing director of Tech9. "Even very small modifications have been known to lead to warranty claims being rejected, or extended warranties being unavailable. TECHART creates some of the world's finest bespoke vehicles, so it is essential that we support our customers with equally superb service and support however much – or how little – their car has been upgraded."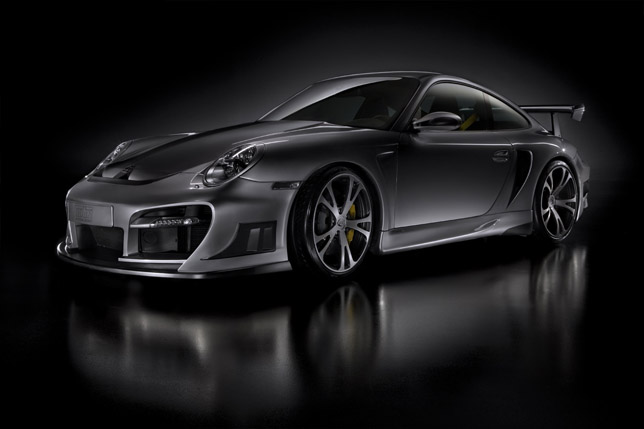 The TECHART warranty provides unlimited mileage coverage and owners can make any number of claims up to a total of the retail value of the vehicle. It even provides a contribution to hotel and travel expenses and up to 60 days breakdown insurance throughout Europe. "Many people buying independent warranties don't realise that there is a huge difference in the level of protection provided," continues Hindley. "Working with the AA, we have designed the TECHART warranty to deliver the level of cover and service expected by buyers of amongst the world's finest motorcars." Although the policy has been developed specifically for owners of bespoke TECHART vehicles, Tech9 will also consider supplying the cover for other high-quality upgraded Porsches. "We'll inspect the car, provide a report on the quality of the conversion, and issue the warranty if it meets appropriate standards," says Hindley.
Cover costs £1,295 per annum for the 911 and Cayenne and £1,095 for the Boxster and Cayman, including the cost of inspection. "Excellent value compared with the official Porsche extended warranty, and you don't have to own the car for 90 days before purchase," comments Hindley.
Tech9 Motorsport has an outstanding track record in Porsche racing, winning the British GT Championship in 2003, 2004 and 2005 and the FIA GT3 Championship in 2006. The firm's technical expertise led to their appointment as exclusive UK agent for renowned German Porsche upgrade specialist TECHART, making a superb range of stylish body conversions, luxury interiors and high-performance mechanical conversions available to UK buyers.