Infiniti Emerg-E Concept
Infiniti has revealed at the 82nd Geneva Motor Show its first ever mid-engined sports car concept called the Emerg-E. In addition, Infiniti confirmed the limited production of 200 units of the 420PS FX Sebastian Vettel version for Europe and Middle East markets.
The sports car concept makes its debut at the Geneva Motor Show 2012. It is highly advanced automobile that provides an exciting glimpse into Infiniti's future. It features exciting new technologies that the brand will adopt in its quest to build dramatic and sustainable high performance cars. Infiniti Emerg-E also provides a fresh expression of Infiniti's design language applied to a high performance, mid-ship sports car for the first time.
This is also a model that has been developed in Europe. More than that, its advanced technology deliberately draws on the knowledge of suppliers beyond Infiniti's usual base in the quest to uncover the most innovative hardware and the deepest knowledge base.
Emerg-E is powered by two electric motors with overall power of 408PS (300 kW). 0-100 km/h in 4 seconds and a top speed of 209 km/h (130 mph). It also can provide zero emission urban transport with over a 48-km (30-mile) range. And when the range-extender petrol engine functions powers the twin electric motors, it produces a CO2 output of only 55g/km (NEDC cycle).
All this is efficiency is wrapped within highly aerodynamic, light bodywork characterised by a design fluency that could only come from Infiniti.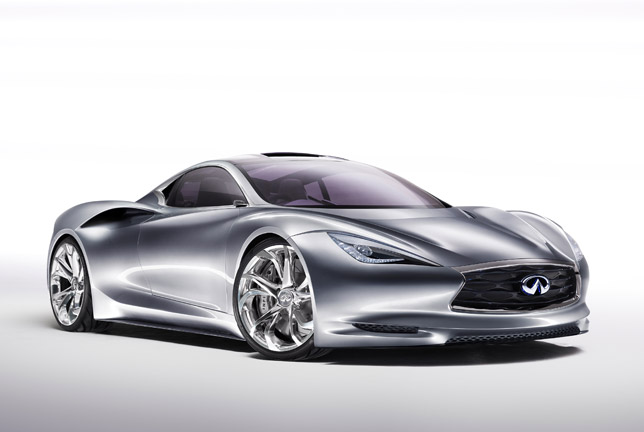 Source: Infiniti