2012 Infiniti G37x S
2012 Infiniti G37x S is simply a combination of luxury style, dynamic performance and safety of intelligent all-wheel drive. The model is the latest one to be added to the Infiniti G Saloon line-up. What is very peculiar here is that the 2012 Infiniti G37x S is the model from the G range to be available with S grade AWD. Back in the days, only GT was available with AWD.
Being a true G model, the G37x S is propelled by its 3.7-litre V6 engine, which is mated to a 7-speed automatic transmission with paddle shifts. This combination delivers 320 hp (235 kW) and acceleration time from 0-62mph in just 6.0 seconds.
In addition, the car's top speed is 149mph and the figure of the official combined fuel consumption is 25.7mpg (11.0 l/100km) with CO2 emissions of 255g/km.
The AWD model in the G line-up – the 2012 Infiniti G37x S can be distinguished by its S hallmarks. For instance, such are the red S badges, 18-inch Sport design alloy wheels and smoked lens headlights.
The interior features sports seats, with 14-way electric adjustment for the driver, and aluminium pedals and footrest. This special version also comes with the Multimedia pack of hard disk drive (HDD) navigation and music systems, 10-speaker Bose® Premium Sound System, reversing camera and high resolution touch screen.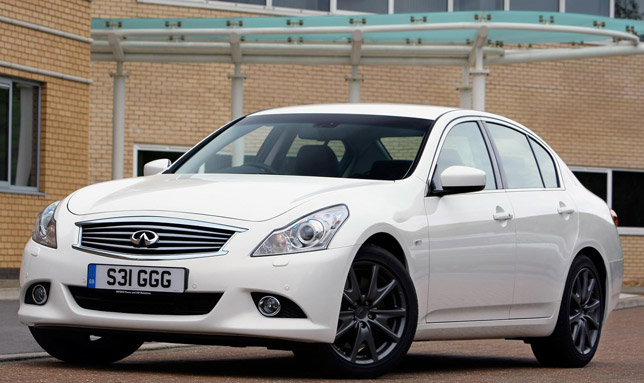 Additionally, 2012 Infiniti G37x S comes as a standard with leather seat facings, Shodo aluminium trim, adaptive bi-Xenon lights, Scratch Shield paint, i-Key smart access, electrically adjustable front seats and steering column, and heated front seats.
Furthermore, the flagship Infiniti G37 S Premium comes with 4-Wheel Active Steer (4WAS), sports suspension, sports brakes and Viscous Limited Slip Differential. In addition, it also is equipped with Intelligent Cruise Control (ICC) and Intelligent Brake Assist (IBA), which are just two of a wide range of electronic safety aids.
The price for the 2012 Infiniti G37x S starts from £38 979.
Source: Infiniti