Isuzu D-Max a Hit At the CV Show
CV stands for Commercial Vehicle and we usually do not muster much interest in such conventions. But every now and then, we stumble upon a pearl. It's the Isuzu D-Max which apparently is proving to be a big hit over there. More than 250 expressions of interest have been directed at Isuzu's stand. This can only help marque set itself apart from other manufacturers as a producer of reliable and durable pick-up trucks.
It's versatile as well. One can go for the single cab design or the extended cab or even the double cab. Also, four specification trims, let you decide which is the perfect balance between value and equipment. The starting price in the UK stands at £14,499 ($23,447). Obviously, it's an entry, 4x2, single cab version but a generously-equipped one nevertheless - electric windows, daytime running lights and air conditioning. If that turns out to be rather unsatisfactory, go for the top-of-the-line Isuzu D-Max Utah which adds 17-inch alloy wheels, leather upholstery, roof bars, iPod / Bluetooth connectivity and a six-speaker audio system £21,499 ($34,768). It's also 4x4. The other two versions in between are called "Eiger" and "Yukon".
All the D-Maxes use a 2.5-liter, twin-turbocharged common-rail diesel engine. Thus, 163 ps and 400Nm of torque are constantly available at a low cost – 38.2 mpg of combined economy and CO2 emissions rated at 194 g/km. The transmission can either be a newly-developed six-speed manual or a five-speed automatic.
Yes, it still sounds very commercial and rugged, but in a world full of SUVs (Sports Utility Vehicles), mere utility vehicles deserve a second chance. It may bring some diversity in your life.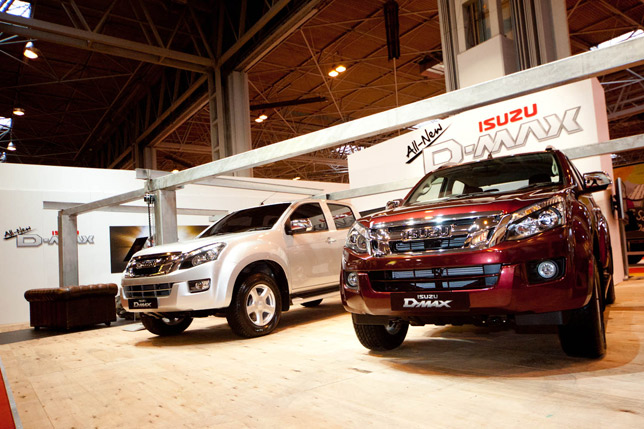 Source: Isuzu