Isuzu Dakar D-Max Set to Compete in the Famous Rally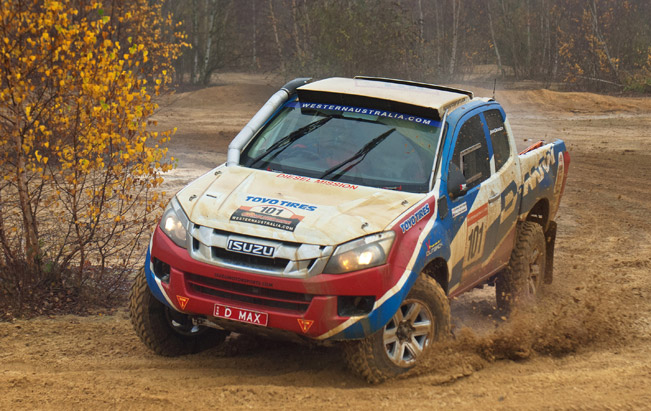 Isuzu D-Max Dakar is one of the most spectacular and powerful pick-ups ever built, and it will participate in the Dakar Rally - one of the most gruelling races on earth. The event will happen in January next year.
The vehicle is based on the production Isuzu D-Max 4x4 double-cab, but it has increased performance due to the new 3.0-litre (2,994cc) 16-valve common-rail turbo diesel engine. It produces output of 242 horsepower (178 kW) and 589 Nm (435 lb-ft) of torque. The powerplant is matched to a four-wheel drive system and a sequential five-speed Hollinger gearbox and Xtreme rally clutch.
Further enhancements regard the chassis, which includes custom-built, full-length eight millimetre aluminium skid plates, while the steel cab body is fitted with an integrated roll-cage and carbon-fibre panels that shield the pick-up's key components.
The immediate stopping is ensured by the additionally added DBA Kangaroo Paw ventilated disc brakes with cross-drilled discs and Harrop aluminium racing calipers. Isuzu D-Max Dakar rides on 16 x 7-inch ROH Trojan alloy wheels, shod with Toyo Open Country M/T-R tyres. And to sum up the result of these enhancements, it is a great acceleration time from zero to 100 km/h in seven seconds. The top speed is 190 kph.
Technical specifications:
Body and construction
Base vehicle
Isuzu D-Max 4x4 double cab
Body
Isuzu steel cab body with integrated roll-cage and carbon fibre panels
Chassis
Garland Motorsports-modified Isuzu D-Max chassis
Underbody
Custom-built, full-length 8 mm aluminium skid plates
Engine and transmission
Engine
Isuzu-developed 2994cc in-line DOHC, 16-valve 4-cylinder common-rail turbo diesel
Power
242 horsepower (180 kw) @ 4800 rpm
Torque
589 Nm (434 ft/lb) @ 2000 rpm
Cooling
Davies Craig electric water pump with Adrad custom cross-flow aluminium cab-mounted radiator with dual electric fans
Induction
Isuzu turbocharger with intercooler mounted in original radiator position
Gearbox and clutch
Five-speed Hollinger sequential gearbox and Xtreme rally clutch
Fuel tank
Custom-built dual aluminium fuel tank with a total capacity of 320 litres (85 gallons)
Drivetrain, suspension and damping
Front differential
Isuzu rear housing, modified to suit independent front suspension and drive-shaft
Rear differential
Isuzu rear axle and housing, modified to suit ladder-bar rear suspension
Front suspension
Custom-built independent, torsion-bar using Isuzu lower control arm, King off-road racing reservoir shocks and adjustable stops
Rear suspension
Custom-built coil-sprung ladder bar with adjustable King off-road racing, remote reservoir shocks and adjustable stops
Brakes, wheels and tyres
Brakes
DBA Kangaroo Paw ventilated disc brakes with cross-drilled rotors and Harrop aluminium racing callipers
Wheels
16 x 7-inch ROH Trojan alloy wheels
Tyres
Toyo Open Country M/T-R
Interior
Telemetry
Racepak data gathering and engine control
Seats
Recaro motorsport shell
Steering wheel
Momo three-spoke
Weight
Weight
2300kg (approximately)
Performance
0-100km/h (60mph
7 seconds (estimated, on dirt)
Top speed
190 kph
Source: Isuzu