JMB Optimering Ferrari LaFerrari - 1,050HP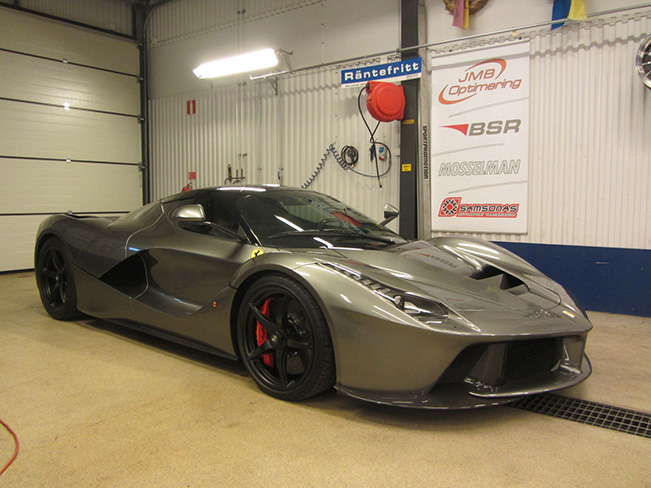 JMB Optimering boosted LaFerrari to the whopping 1,050HP (772 kW). The model is produced in a limited series of just 499 units, so getting one for modifying is extremely difficult.
2013 Ferrari LaFerrari is powered by a 6.3 liter V12 with 800HP (588 kW) at 9,250RPM an 700Nm (519 lb-ft) at 6,750RPM. With the help of HY-KERS, the overall power is whopping 963HP and over 900Nm of torque. 0-100 km/h in under 3 seconds, 0-200 km/h in 7 seconds and 0-300 in breath-taking 15 seconds. A lap around Fiorano race circuit takes just 1 minute and 20 seconds – 5 seconds faster than the Enzo and over 3 seconds faster than the F12berlinetta.
So, the tuning specialists from JMB squeezed another 90HP from the mighty twelve cylinder engine. It is interesting that the overall output matches that of the rumored track-only LaFerrari XX expected to hit the market next year.
LaFerrari XX will be limited to just 30 units. Since the "normal" LaFerrari is priced at €1.3 million, we expect the XX version to be something close to €2.0 million, which is sensational.
There is no doubt that the manufacturer spends a lot to produce such supercar, but to ask that kind of money for a track-only car is just ridiculous.
Source: JMB Optimering