Kelleners Sport BMW 5 Series Touring
Tuning house Kelleners Sport from Germany have provided some neat accessories and tune ups for the latest BMW 5 Touring (F11). Think in terms of aerodynamic panels, engine tweaks, wheels and springs and some plumbing.
What's funny about this project that the focus is on a Toruring (estate). Whenever you buy an estate, you label yourself as a sensible person. Whenever you buy panel kits for your car, you are a teenager that want's to peel the tarmac off the road. For the sake of even more confusion, Kelleners offer a performance upgrade even for the 535d – the magnificent top-of-the-range diesel from BMW – 313 hp. and 630 Nm. of torque. With the upgrade those figures go up to 376 hp. and 756 Nm . It's pure lunacy, we tell you.
The petrol 4.4-liter V8 Twin Turbo version (550i) gets its power up from 407 hp. to 490 hp. At the same time, the torque ends up at 720 Nm – 120 more than usual.
Visual treats include the lower lip spoiler and apron that boasts a deliciously meshed grille design. Some side skirts have also been thrown in and a rear diffuser as well. Those pipes that jut out from it measure at 90 millimeters in diameter, ensuring a noble, yer stomach churning acoustics.
The finished product sits on four Kelleners Sport Light alloy wheels that can come in two sets - 8.5 x19 and 9.5 x19-inch, and 9x20 and 10x20-inch. It's worth also mentioning that this particular BMW is 30 mm lower than standard thanks to some sports springs which come in handy while in a corner but there is a slight chance that the family won't enjoy the rest of the ride.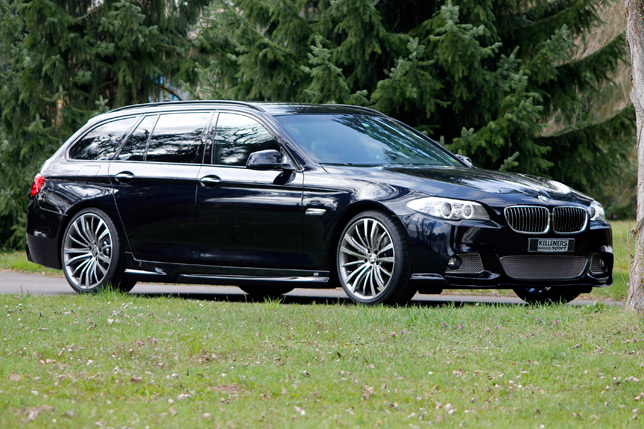 Source: Kelleners Sport