KTW Mercedes-Benz E-class Estate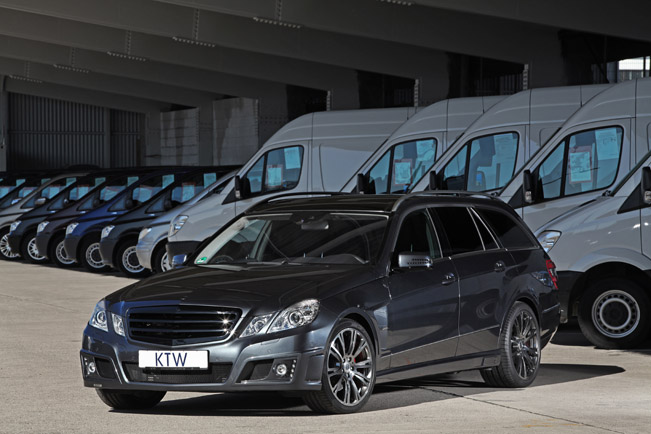 KTW tuning has announced their latest tuning program for Mercedes-Benz E-Class Estate. The tuned T-model comes with both – styling and performance ugprades.
The Brabus ECO PowerXtra D65 boosts the diesel engine (E350 CDI) to 315HP (230 kW). There is also a sports exhaust system also by Brabus.
KTW E-Class Estate rolls a set of monobloc R-rims by Brabus – 8.5J x 19" at the front and 9.5J x 19" at the rear fitted with 245/35R19 at the front axle and 285/30R19 at the rear axle.
The engine bonnet is adorned with a Brabus emblem, the emblem of the same origin on the boot lid is even lighted. The Brabus front skirt with attached light pack 4 carries the designation W 212 1 and is combined with the sports grille by KTW Tuning. The sill trims in turn are taken from Bottrop, they have a "Double B" logo and are also highlighted. The Brabus sport fenders are not usually mounted on diesel vehicles. This has been achieved only by the special commitment combined with the technical know-how of Brabus and the KTW Tuning GmbH.
Also there are the window foliation as well as the Brabus door sills, aluminum pedal pads and a set-door-lock pins to be mentioned. And of course everything is approved by higher authorities through the TÜV-parts certificate.
The complete transformation is priced at €18,999.
Source: KTW Tuning