Larte Design is Drawing Your Attention with a Sketch of Basalt-Made Tesla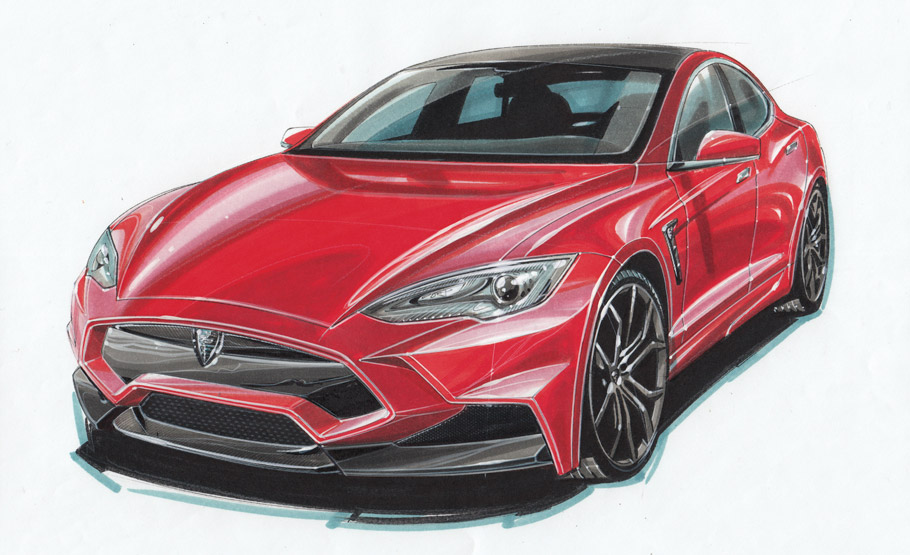 We are very impatient to finally see Larte Design Tesla Model S when it debuts tomorrow at the Top Marques Monaco. The reason for this is that we have just received a sketch of the car, which looks breath-taking. The other reason is that this Model S will have a body work made from basalt fibers, which will save a lot of weight. So, this is the first, official and only sketch of the Tesla that you can find on the Internet, since there are a lot of speculations about it and even fake photos.
As you can see, the design studio has sketched lightning-like sharp lines to highlight the sporty stance of this electric vehicle. The red exterior color also strengthens this impression. As mentioned, the bodywork will be made of the innovative material, basalt fiber, which is actually produced from natural lava rock.
Can you imagine that this material can even proudly compete with the carbon fiber? Just mind that the whole bumper set of this Tesla weighs only 13kg. And this includes the accessories!
All in all, from what we see from the sketch, this car will look astounding. And if you are anywhere near Monaco, then you should definitely go and take a look on it. So what's left, is to witness the car debuting tomorrow and this is when a lot of question will be answered. Stay tuned!
Source: Larte Design