Larte Design Mercedes GL Black Crystal Shows the Power of 290 Horses [VIDEO]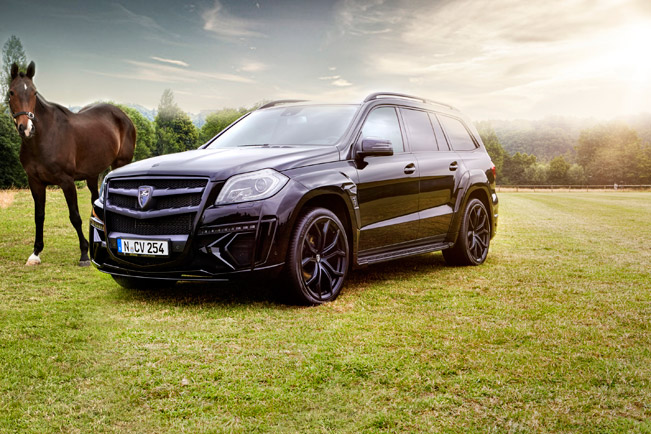 Do you remember Larte Design's Mercedes-Benz GL Black Crystal? This beautifully customized vehicle is now the main star in tuning company's movie "Black Crystal". The stylish film is very unusual, because it features a fictitious point-to-point race between the polo horse Barraca and Larte's GL Black Crystal. The video clip was shot on the Hovener Hof stud farm near Weilerswist in North Rhine, Westphalia.
Although the tuned Mercedes has more than 290 hp (213 kW) (the production output is 258 hp (190 kW) and 620 Nm (458 lb-ft)), the drivers were quite astonished how very agile and spontaneously speedy the horse was. At the same time, the horse fans found the visual refinement of the car quite compelling.
Vehicle's name is inspired by the two giant crystals of sorts on the front apron. The tuning program here includes a very aggressive body kit as well as black 22'' forged alloy wheels and a sonorous exhaust system.
The front guard is escutcheon-shaped and stretches along the entire height. It features LED daytime running light, jags, edges, boomerang-shaped elements, exposed-carbon inserts and a number of air inlets.
What is more, for additional sportier look and proportions, Larte has equipped the Mercedes-Benz GL with new aprons and mighty wing spacers at the rear and the front. The width of the car is additionally underscored by new side skirts and rear door beads. What is so striking here is the central, formula-1-type brake light and the 4-pipe carbon-coated stainless-steel exhaust system.
Video Source: YouTube
Source: Larte Design