Lotus Esprit by Cam Shaft
News from Cam Shaft. Yes, the company that ruined a rare Veyron with some silly wrapping. This time though, they seem to have done things properly. The car that has gone under the knife is a V8 Lotus Esprit made no earlier than 1996. Its standard output of 354 hp has been revamped, the gearbox has been replaced, the brakes are new and the bodywork serves as a tribute to the late Ayrton Senna.
The guys at Cam Shaft had a wonderful engine to work with right from the start – twin-turbocharged 3,506 cubic cm of power, 400 Nm of torque and 354 hp. The overall weight of the car amounted to just 1,380 kg which enabled it to accelerate to 100 km/h in 4.9 seconds and go on to a top speed of 282 km/h – monumental figures for the time.
By placing a Red Race control device on the car's computer and by adding Forge adjustable cases inside the turbo compressor pumps, Cam Shaft manage to extract more juice from the Esprit's V8. The intercooler has also been replaced and two 100-cell structure catalysts have been fitted so that now we have a 492 hp Lotus – quite up to today's standards. Apparently, tests have shown that the zero-to-hundred time now stands at 4.3 seconds and the top speed stops counting at 305. Needless to say that, considering the new power surge, the gearbox needs to be up to standards as well. That's why, at Cam Shaft, they have replaced it entirely with a 6-speed Dog-Engagement gearbox equipped with a longer total ratio. The brakes are also been replaced with ones that are bigger and more heat-efficient.
Finally, the wrapping – a black bodied trim that is pretty much reminiscent to Senna's John Player Special 97T Formula 1 car. It even has his signature on it. It was the car with which he won his first championship. An honorable way to remember a racing legend.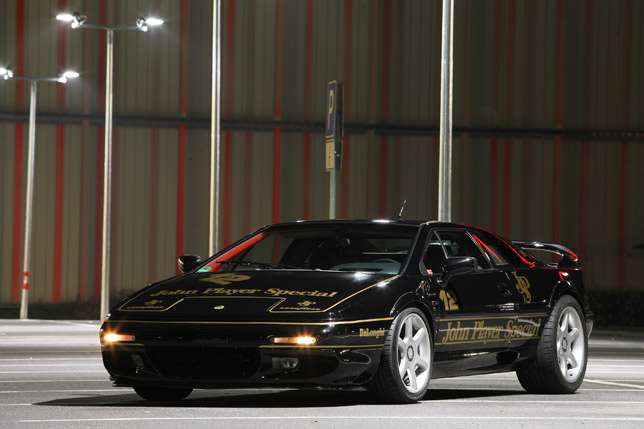 Source: Miranda Media