Lotus will introduce the Range Extender Engine at Frankurt Motor Show 2009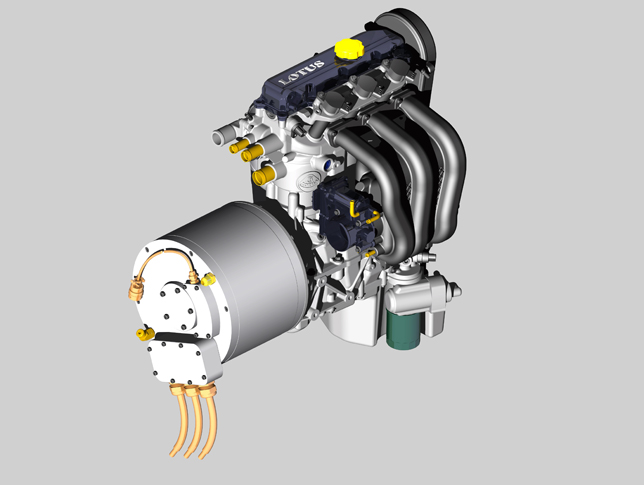 This is a 1.2 litre 3-cylinder with 2 valves per cylinder belt-driven engine. It produces 47bhp at 3500 rpm via integrated electrical generator and 107N/m of torque.
Like all other manufacturers, Lotus also are targeted to hybrid vehicles. The Lotus Range Extender engine offers the advantage of a cost effective design, high efficiency and low mass and in the same time extended range.
The main project is called "Limo-green" and it is a collaboration between Lotus Engineering, Jaguar Cars Ltd, MIRA Ltd and Caparo Vehicle Technologies. The goal is making a large executive saloon with less than 120 g/km CO2 emissions.
Technical details: Technical specification of the Lotus Range Extender engine
| | |
| --- | --- |
| General | 1.2 litre 3-cylinder with 2 valves per cylinder, SOHC Belt driven |
| Construction | Monoblock with Integrated Exhaust Manifold All aluminium Balance shaft (optional) Direct-coupled generator |
| Bore and Stroke | 75.0 mm x 90.0 mm |
| Compression ratio | 10:1 |
| Maximum power | 35 kW (47 bhp) at 3500 rpm via integrated electrical generator |
| Peak torque | 107 Nm at 2500 rpm |
| Maximum BMEP | 11.2 bar |
| Maximum Engine Speed | 3500 rpm |
| Fuel System | Port fuel injection, Lotus EMS |
| Fuel | 95 RON ULG / ethanol / methanol |
| Dry weight | 56 kg |