Mädchen & Motoren Opel GT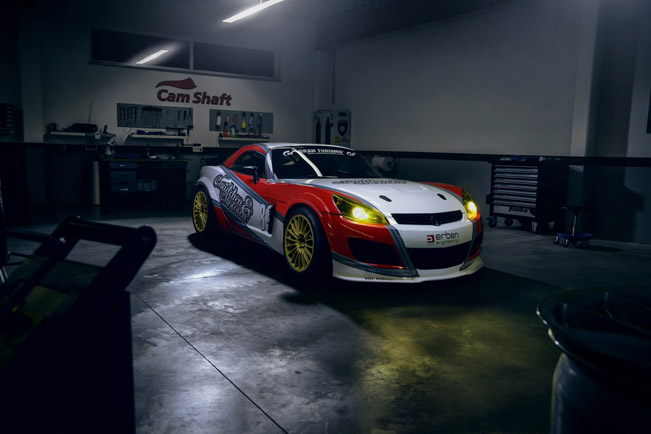 Mädchen & Motoren Opel GT is a project which celebrates the tenth anniversary of the tuning company. The used Opel GT is a production model from 2008 and has been refined with the help of the experts at Cam Shaft, who have made a perfect foliation on the body. At first, the body shell was entirely stripped and all elements which were considered unnecessary were removed. This allowed a widening of the body on both sides by 8 cm.
The weight of the car was reduced to 1.150 kg due to the use of fibreglass cowl, new hardtop as well as company's front fender. The car is powered by the 6.2 litre Corvette LS3 engine with a hot cam, other valves and a carbon airbox. As a result, it delivers full 530 horsepower (390 kW).
The specialist also created exhaust manifolds and exhaust system for this project. The built-in Tremec-gearbox TR-6060 originates from Corvette ZR1, while the brake system with its 6-piston calipers in front and rear as well as Cup brake disks were taken from Porsche GT3 RS.
All of the aforementioned components were then combined with a KW Competition chassis. The wheel and tire combination consists entirely from 11x18 inch GT-Racing rims from ATS fitted with 295/30 tires and Racelogic traction control.
Inside, the GT comes equipped with welded FIA-safety cell. The sound system and air conditioning have been removed for the sake of weight saving. There has been added a Recaro Pro Racer seat, while a pole position of the same origin is installed on the passenger side. A red-white outer shell with labeling and yellowish headlamps further adds to the eye-catching image of this Opel GT.
Source: Mädchen & Motoren via Miranda Media