MAGNAT SNOWMOBILE Porsche GT3
Porsche GT3 has received another tuning package, but this time from Magnat … and Wimmer.
The mighty 3.8 liter flat-six received updated software and modified exhaust system including sport catalysts and suction tubes optimization. All coming from Wimmer racing sport techniques in Solingen, Germany, and is called RS step 3. The result is 462HP (340 kW) and 451Nm (334 lb-ft). The top speed is 317 km/h (197 mph).
Snowmobile Porsche GT3 stands on Ultraleggera HLT CT by OZ in 8.5J x 19" and 12J x 19" fitted with 235/35 ZR19 and 305/30 ZR19 Yokohama Advan Sport tires.
The interior gets even more attention. Magnat has re-engineered the whole internal space of the car in finest craftsmanship and highest quality. Leather, Alcantara and high gloss paintwork let the GT3 shine in its unique design, the dynamic diamond patterns setting sportive and, in the same time, exclusive accents.
The audio system boasts 2100 WATTS - high performance voice coils and the 1" textile tweeters, down-fire subwoofer casing with 10" woofer and  Magnat Black Core 5 channel amplifier.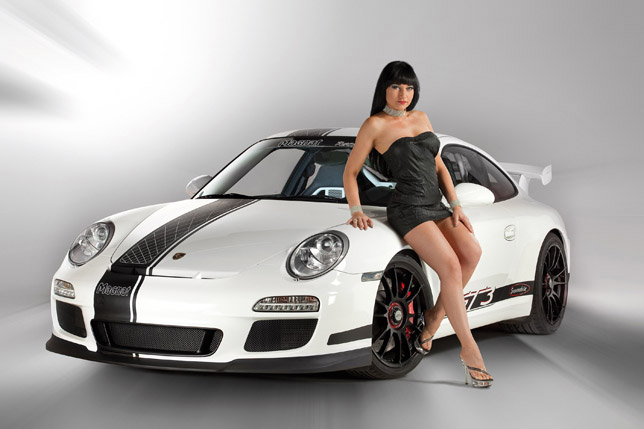 Source: Magnat