Major role for UK's Zytek in electric Smart project
There hasn't been much good news for the UK midlands motor industry of late – but UK-based electric car specialist Zytek has received a boost with the contract to build and fit the electric drivetrain for the second-generation Smart Fortwo ED at its facility in Fradley, Staffordshire.
Zytek has developed an integrated electric drivetrain to drive the rear wheels of the Smart Fortwo. The drivetrain integrates the electric motor, power and control electronics, into one assembly with only three connections: water, high voltage electrics (300V) and low voltage electrics (12v). This replaces the conventional petrol engine and rear axle, and removal of the fuel tank allows room for a battery pack below the floor.
The second-generation electric Smart will represent a major upgrade on the first version, which has been tested extensively in London since 2007. The new version is based on the second-generation Fortwo model, and the biggest technical change is a move to Lithium Ion batteries instead of sodium-nickel-chloride. This will increase the range life of the battery pack, while cutting recharge times. The batteries are to be supplied by US-based electric sports car maker Tesla.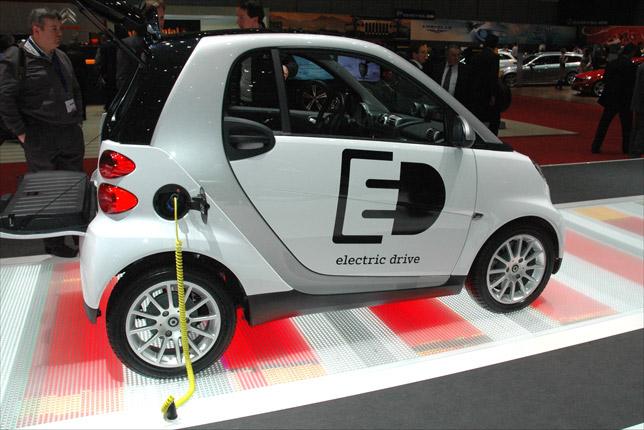 The new Smart Fortwo ED will go into production toward the end of the year. It will be used mainly in organised EV test programmes in major European cities, including Berlin, Paris, Rome, Milan and Pisa, with further cities planned.
In Berlin, the local government and energy providers are installing 500 electricity charging stations, and Daimler is providing more than 100 electric Smart and Mercedes-Benz cars. Several similar programmes are also being considered in the US.
The plan is to refine the design as a result of feedback from these tests, and make a major ramp-up of production volumes in 2012. Two versions of the Smart ED were shown at Geneva – a standard version and a more exclusive Brabus version, with matt green paint, a cabriolet soft top, LED daytime driving lights, sports suspension and Brabus Monoblock VII alloy wheels.