Mansory Conquistador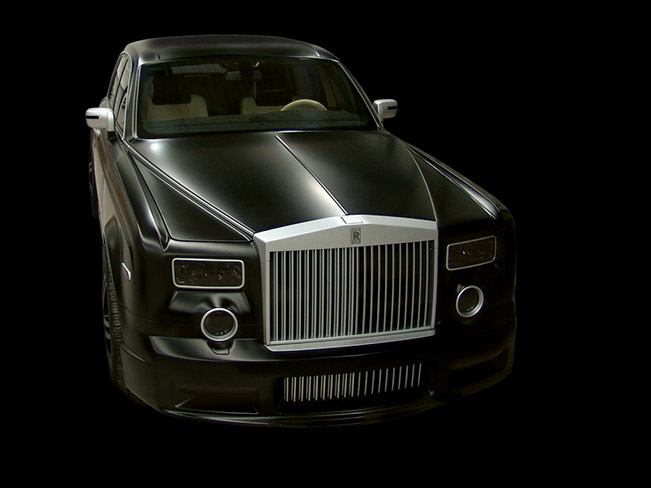 Mansory Rolls Royce Phantom Conquistador, the new project of MANSORY based on a Rolls Royce Phantom, which is completing the MANSORY individual customization focus on to british noble high class automobile brands.
Innately the Rolls Royce Phantom is a representing beauty of elegance and doubtlessly the top of automobile modernity and in detail MANSORY made some more exclusively accents. It starts with a new developed frontspoiler with integrated state of the art LED daytime running lights and elongated grille stripes, new side skirts with implemented aluminium flanks also the same material for the side fender grilles, the wing mirrors come with integrated flasher lights and the tail comes with a apron and double over and under stainless steel exhaust ends and at least the small sporty trunk lid spoiler.
Quintessentially classiness and understatement arrange the absolutely new super soft lacquer made by Glasurit which makes the automobile with its deepest shadow black more than magic. Also the complete chrome exterior trims are coming in soften silver.
The CONQUISTADOR is staying on mightful forged 24 inch wheels in the typical MANSORY design with tyres in dimensions of 305/35/24 in front and rear. The 24er have a width of 10 inch and an offset in front by 56 and at the rear of 63.
By the modification of the electronical characteristics the heart of automobile has now 366 KW/490bhp/498 PS and a maximum torque of 780 Nm / 575 lb ft at 3920rpm. The speed limitation is upgrated now to an topspeed of 270 km/h / 168 mph and the gigantic weightiness will be restrained by an high performance brake system made by Brembo with front rotors of 412/38 with 6 pistons and at the rear with dimensions of 405/36 and 4 pistons.
The unquestioning highlight is definitely the suspended particle device glas which allows the driving guests to regulate continuously the transparency (transmission degree) by an remote control.
Inside of the luxury saloon MANSORY attends with choicest individuality. Special wide carbonfibre in combination with bright maple wood inlays as well as implemented ambiance-light-effects are giving the interior an extravagant classy level. Lightening sill plates, chequered quilted ornaments in seats along the line to the carbonfibre structure, Alcantara roof lining, Alcantara dashboard to the point of the forceful designed sport steering wheel. At least at the back there are the new electrical business tables with seat integrated multimedia monitores as the final statement of exclusive imagination.