Marangoni Range Rover Evoque
Here is a nice way to spoil e beautiful car – just add red tires, strange rims and a lot of carbon fiber all over on your stylish Range Rove Evoque. The same thing did the Italian tire specialists from Marangoni, who exhibited the "tuned" Evoque at the 2011 Bologna Motor Show.
The SUV also has a new body kit including redesigned front bumper and aluminum bonner with integrated air intakes, and a new rear bumper with an integrated carbon diffuser. There are also carbon wheel arches, boot handle, bottom door guards and mirror covers. The interior also features a lot of carbon fiber and some Alcantara.
The last "touch" are the 20" OZ Racing Dakar wheels wrapped in 255/30 ZR20 red M-Power tires.
Besides the ridiculous look, Marangoni Range Rover Evoque comes with 60PS (44 kW) more, which means a total of 300PS (225 kW) from the 2.0 liter turbocharged four-cylinder petrol engine. The original torque is 380Nm (280 lb-fT), but there is no data about the new one. The gain is thanks to a new turbocharger, larger stainless steel exhaust system with a 200 cell metal catalyst, and a new air intake. To make sure everything works perfectly, an ECU re-map has been made.
The performance is further improved by a complete braking system - Tarox B360 with 10-piston calipers and and 330x26 mm composite disks.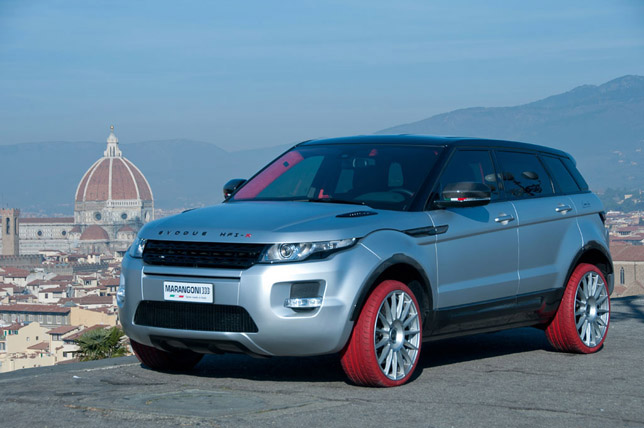 Source: Marangoni