2013 Mazda CX-5 featuring SKYACTIV TECHNOLOGY offers environmentally friendly fun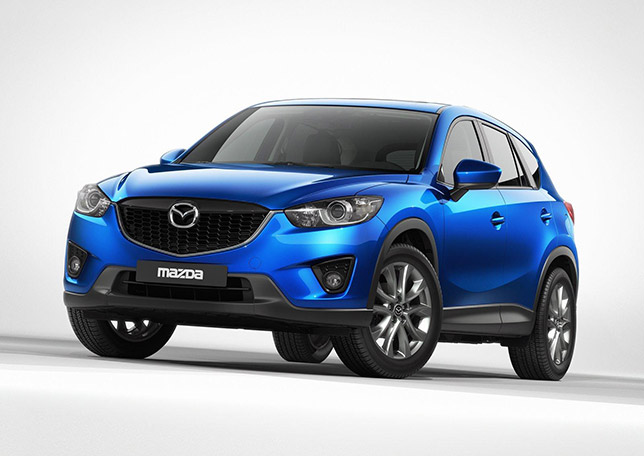 The brand-new generation and one of the most efficient Mazda ever is the all-new 2013 Mazda CX-5, which will hit the growing European compact crossover SUV market in the spring this year. What is ore important here is that the new CX-5 model will feature the ground braking SKYACTIV TECHNOLOGY. The latter is Mazda's innovative new line-up of engines, transmissions, chassis and bodies. It is especially developed for cars which are affordable, fun yet economical to drive, and environmentally friendly. The figures are more than impressive: at 4.6 l/100 km and 119 g/km, the CX-5 with SKYACTIV-D diesel engine has combined cycle fuel economy and CO2 emissions. This makes it one of the best in its segment not only in Europe, but also all around the world.
The key design behind the innovative SKYACTIV technology is the internal combustion. And namely this technology is going to be the predominant engine technology for the next decade, with industry coverage of at least 80%. Mazda made a great step into improving the basics of internal combustion power, coming up with a range of unique innovations. The idea is to progressively supplement this enhanced basis – SKYACTIV petrol and diesel engines – with advanced technology. From the i-stop idle-stop system and regenerative braking to hybrid systems and more, their efficiency will continually enhance. This strategy stands under the name "Sustainable Zoom-Zoom", and it goes beyond optimizing internal combustion. What is more here is that the Sustainable Zoom-Zoom is also about lightweight designs. Here Mazda's goal is to make each new model generation 100 kg lighter than its predecessor. The ultimate goal for 2015 is to improve the average fuel efficiency of its global model line-up by 30% relative to 2008 levels.
New Mazda CX-5 diesel CO2 emissions and fuel consumption:
| | | | | | | |
| --- | --- | --- | --- | --- | --- | --- |
| Model | FWD 150 PS 6MT | FWD 150 PS 6AT | AWD 150 PS 6MT | AWD 150 PS 6AT | AWD 175 PS 6MT | AWD 175 PS 6AT |
| Average fuel consumption (l/100 km) | 4.6 | 5.3 | 5.2 | 5.5 | 5.2 | 5.5 |
| CO2 (g/km) | 119 | 139 | 136 | 144 | 136 | 144 |
Source: Mazda