New Meaning Of Lightweight: Audi TT Ultra Quattro Concept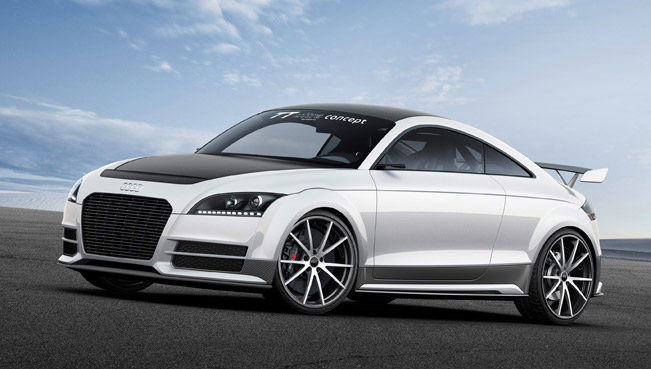 Audi TT Ultra Quattro Concept is equipped with brand's latest and most innovative TT 2.0 TFSI which has shed an incredible 300kg and gained a power upgrade to 310 hp (228 kW). The car was developed especially for next month's annual gathering of Audi enthusiasts in Wörthersee, Germany. It aims to show how the intelligent mix of materials can result in weight savings.
This Audi concept weighs just 1111 kg, while featuring a potent petrol engine with quattro all-wheel-drive. As stated it generates 310 hp (228 kW) and 400 Nm (295 lb-ft) of torque. The power is transmitted through a six-speed transmission, the result is blistering 4.2-second acceleration time for the sprint from 0 to 100 km/h. The top speed here is 173 mph.
The reduction of weight was achieved via modifications to the crankcase, the crankshaft, the balancer shafts, the flywheel, the sump, the bolts and certain ancillary units in the engine (the result is 25 kg less). In addition, the innovative hybrid body shell already boasts a low body weight of 206 kilograms.
Furthermore, the utilization of carbon fibre-reinforced polymer (CFRP) in the rear end, the centre tunnel, the B-pillars and the roof as well as the magnesium components in the floor and in the hinge reinforcements effect in additional savings.
Another highlight here is the Fibreglass-reinforced polymer (FRP) also replaces more conventional steel for the coil springs in the suspension, helping to further reduce unsprung masses. Other changes in the vehicle have been also made in order to achieve minimum weight. All in all, the overall weight of the car is 300 kilograms lighter compared to the series-production car.
Of course, the exterior of this Audi concept is more than exceptional. Its styling is additionally accentuated through the large spoiler at the front, the base of the rear wing made as a supporting component from milled aluminium, and the wing - made of visible carbon fibre. The exterior color is crystal white and it is complemented by CFRP elements on the roof, the flanks and the tailgate.
On the other hand, the interior includes CFRP on the door trim, the centre console and the cross-bracing that replaces the rear seat bench. The standard front seats are also replaced by fibreglass-reinforced polymer (FRP) bucket seats.
In terms of technology equipment in this model one can find air conditioning, electric window controls, an electromechanical parking brake as well as compact cameras in the doors. Their function is to substitute the exterior mirrors and transfer images into the digital cockpit.
Source: Audi