Mercedes-Benz CLA 45 AMG Racing Series To Debut In Frankfurt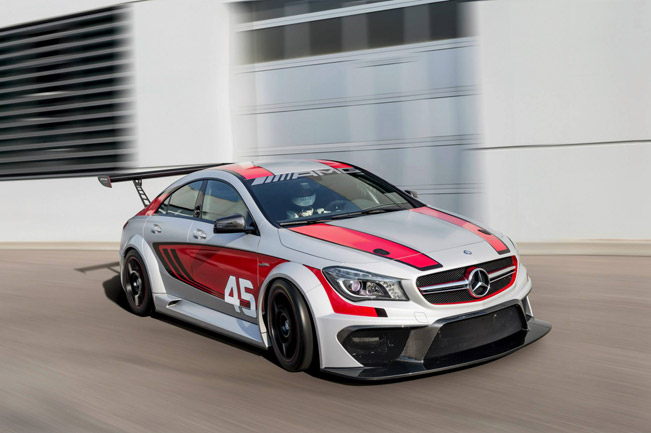 At the official Facebook page of Mercedes-AMG was just revealed a unique vehicle – the Mercedes-Benz CLA 45 AMG Racing Series. Not many details have been revealed so far, however it is visible that the car has the authentic racing attributes, competitive technology and spectacular design.
It was also announced that this special Mercedes-Benz is close-to-production and it is planned for the highly popular racing series with 2-liter turbocharged vehicles. The CLA 45 AMG on which the current model is based was launched in 2013 and was equipped with the most powerful series production 4-cylinder engine.
The race car version would probably adapt the engine performance and technical specifications. A possibility is also to be included here a permanent all-wheel drive and pure front-wheel drive. The engine of the sports car will be mated to an AMG SPEEDSHIFT DCT 7-speed sports gearbox takes.
Body panels made of carbon-fiber reinforced plastics (CFRP) and specific aerodynamic components will make possible the lightweight design of the car and will also provide top-level racing competitiveness. As one can see, the interior is focused on pure function with numerous safety and race car features.
Mercedes-Benz CLA 45 AMG Racing Series will debut at Frankfurt Motor Show.
Source: Mercedes-AMG Official Facebook Page