Mercedes-Benz CLS 63 AMG 4MATIC - KW Lowering Springs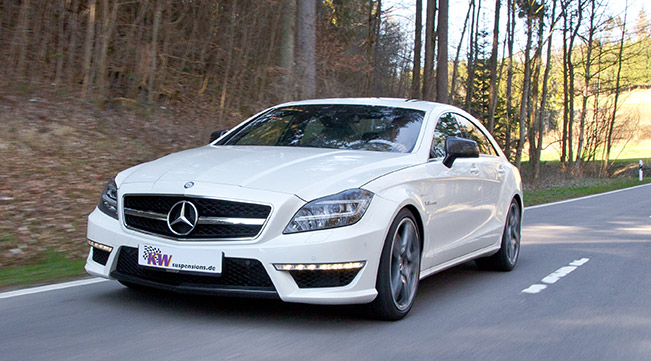 KW Tuning is now offering height-adjustable spring kits for Mercedes-Benz CLS 63 AMG Coupe and Shooting Brake. Unlike the normal lowering kits, the ride height can be adjusted to suit the driver's needs. Of course, the spring kits are TUV certified.
The front axle can be lowered up to 40 mm and the rear axle by 35 mm. The new suspension can be installed quickly and easily. In every workshop or tire dealer, the technicians can replace the standard springs with KW springs.
"While regular lowering springs only allow a fixed lowering of 30, 40 or 50 millimeters, the KW coilover springs can be lowered individually", said KW Product Manager Johannes Wacker.
"The driver has the option to drive his car with any level of lowering he likes within the adjustment range. Plus, when changing wheels and tyres, he has the option to adjust the ride height to suit the new setup. With conventional springs this would not be possible.", he added.
The coilover springs can be individually adjusted between 20 and 40 mm at the front axle. The level of lowering at the rear axle is between 15 and 35 mm.
The height-adjustable KW springs a with German TÜV certificate are also available for the Mercedes-Benz E63 AMG 4MATIC.
Source: KW