Mercedes-Benz CLS Shooting Brake
It's common knowledge that nowadays, car makers are trying to dominate every segment out there. But some companies are now even changing the rules. With no fields left for dominance, Mercedes-Benz set out to create new categories. The CLS serves to prove that point – a four door coupe. Are you ready for the next step? The Mrecedes-Benz CLS Shooting Brake (see concept) – a five-door, estate coupe. Sound's ridiculous right? But it looks just as good as it is mad.
It may not be a full blown estate but it is actually bigger than the current E-Class wagon. Still, boot space at the back is inferior to the one of the E-Class, but you can opt to have it all covered in a cherry tree wooden trim... which will not help at all in terms of practically bit it will "underscore the hand-finished nature of the interior". Most of all, by doing so, you won't put much strain on the engine since the Shooting Brake engineers have kept it light by installing frameless, completely aluminum doors which are 24 kg lighter than they would be if steel was used. The tailgate, hood, front fenders and other elements of the suspension and engine are aluminum as well.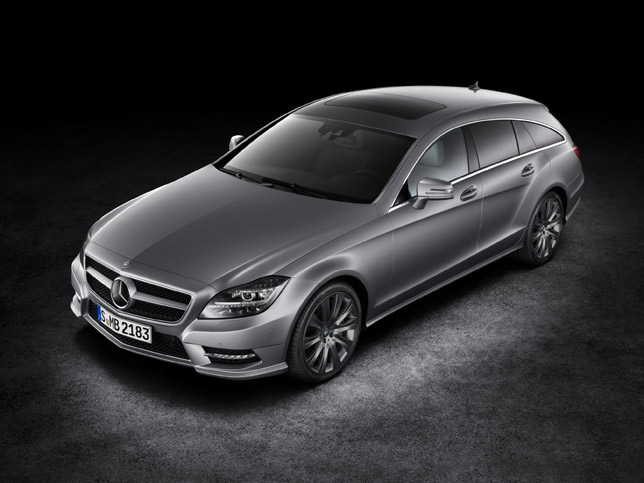 Another coupe feature of the CLS Shooting Brake is it's shape. Besides soothing the eye, the design also has an aerodynamic perk - a Cd value figure of 0.29. Good news then for the efficiently oriented engine options. Two diesels: One being a four cylinder and the other, a CLS 350 CDI 3.0-liter V6 that develops 265 bhp and returns 47 mpg . Zero to sixty acceleration for that latter one takes 6.6 seconds while the top speed is limited at 155 mph. Both of the engines make use of a 7G-TRONIC PLUS automatic transmission and both have an ECO start/stop system as standard. Another feature that increases the distance between gas station stops is the Electric Power Steering system which is also said to be superior in feedback.
No word on the pricing but our guess is that the end figure will be perfectly sensible with traces of lunacy and dynamism. When AMG get their hands on a CLS Shooting Brake expect full on lunacy and dynamism.
Source: Mercedes-Benz