Mercedes-Benz Concept BlueZERO - a near-series concept car
Adistinctive radiator grille with a large star in the middle. Dynamic lateral lines on the flanks. A metallic-painted body that exudes power and excitement. There is no debating that with this car, the Concept BlueZERO, Mercedes-Benz is redefining its familiar design idiom. What's more, the dynamic exterior design symbolizes innovative forms of mobility that will be based on electric cars.
In a figurative sense, the near-series concept car represents the sustainable concepts with which Mercedes-Benz is showing the way forward when it comes to environmentally responsible electric mobility. "The flexible BlueZERO concept basically allows electric mobility for every requirement," says Thomas Weber, the Daimler AG Board member responsible for Group Research and Mercedes- Benz Cars Development. "It also highlights the fact that Mercedes-Benz is the only automaker to already have all the key technologies for electric cars that are suitable for everyday use."
Modular construction kit The BlueZERO concept car kills three birds with one stone. Three models with different electric drives can be produced on the basis of a single vehicle architecture — the sandwich floor from the A-Class and B-Class. But the design engineers behind the flexible vehicle concept are interested in more than just the technical aspects of installing an electric motor in a car body. "Where will the electricity that powers the car come from, for example? How does it get into the vehicle? And how sustainable are these energy sources?" These are the questions asked by the engineers who are working intensively on new drives, while under tremendous pressure in all matters related to electric cars.
Flexible high-tech trio The modular concept of the BlueZERO has resulted in a spirited trio that can truly fulfill every customer requirement in terms of sustainable mobility. All three models are packed with state-of-theart technology, including liquid-cooled lithium- ion batteries with up to 35 kilowatt-hours of storage capacity. As is typical for this class of car, all three feature front-wheel drive. The compact electric motor between the front wheels has a maximum output of 100 kilowatts, continuous output of 70 kilowatts, and peak torque of 320 newton-meters. All three of the variants can accelerate from zero to 100 kilometers per hour in less than 11 seconds. The top speed is electronically limited to 150 kilometers per hour to ensure optimal cruising range and energy efficiency.
The sandwich floor-based vehicle architecture makes it possible to realize three models with different energy sources for the electric motor: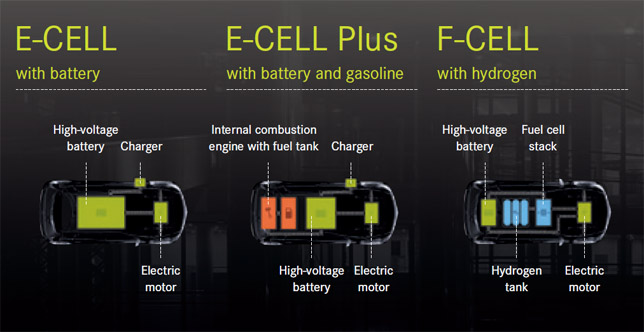 The BlueZERO E-CELL concept represents a vehicle concept that is generally accepted as "the" electric car. The E-CELL, which offers an electric range of up to 200 kilometers, has an electric traction motor and a battery that can be recharged at conventional power outlets.
The BlueZERO F-CELL is equipped with a hydrogen-powered fuel cell system that supplies the electricity for the electric motor. It achieves a range of well over 400 kilometers on a single tank of hydrogen with zero emissions according to the standardized New European Driving Cycle (NEDC).
The BlueZERO E-CELL PLUS has an electric drive motor and a 17.5 kilowatt-hour lithiumion battery supplemented by an internal combustion engine that drives a 50 kilowatt alternator, when necessary. This range extender allows for a range of up to 600 kilometers. Up to 100 kilometers are possible in purely electric mode, which is free of local emissions. The developers selected the one-liter turbocharged gasoline engine from the smart fortwo, which produces 50 kilowatts at a constant 3,500 rpm.
Powerful lithium-ion battery A core component of modern electric drives are highperformance lithium-ion batteries. Mercedes- Benz was the first carmaker to install such batteries in a production vehicle, the S 400 BlueHYBRID. "The BlueZERO concept also benefits from this battery know-how," says Christian Mohrdieck, who heads the Fuel Cell and Battery Drive System Development department at Daimler Research & Advanced Engineering. With a charging capacity of 15 kilowatts, the lithium-ion batteries used in the E-CELL and E-CELL Plus can store enough energy within 30 minutes for a range of 50 kilometers. Purely electric ranges of 100 or 200 kilometers require recharging times of one and two hours, respectively. Both of these BlueZERO variants are equipped with an electronic control unit that supports intelligent charging stations and billing systems.
There still remains a lot of research and development to be done in the field of battery technology. Daimler is collaborating here with partners in the business and the scientific communities. The company and Evonik Industries are both stakeholders in the firm Li-Tec, for example. "This company's business objective is to conduct battery cell research, and to develop and produce battery cells based on lithium-ion technology," says Mohrdieck. His colleague Jurgen Schenk, Head of Electric Vehicles Development, points out the advantages of the BlueZERO concept: "Compared to electric cars based on conventional vehicle platforms, the components in the sandwich floor allow a low center of gravity and, consequently, very reliable and agile handling."
No compromises Thanks to the sandwich concept, the BlueZERO, which is only 4.22 meters long, offers the same superior crash safety as all other Mercedes-Benz vehicles. Finally, interior space is retained in full since major drive components are located in the spacious sandwich floor, eliminating the need to compromise passenger compartment or trunk space. With five full-size seats, a payload of approximately 450 kilograms, and a luggage compartment capacity of more than 500 liters, all three models are automobiles that are entirely practical for use under everyday conditions.
Schenk can assuage any fears that, in light of these advantages, all Mercedes-Benz models might soon have exactly the same body concept as the A-Class and B-Class, and that the classic sedan is on the way out. "The sandwich floor is a superlative concept feature, but we are also working on modifications to it. In the meantime, we have developed a concept for a 'sandwich light,' which allows us to also integrate this outstanding idea into other vehicle platforms."
Strategic concepts As a concept car, the BlueZERO showcases the drive and design concepts of the future. The B-Class F-CELL is very much anchored in the present: A small-batch production run of a model with a lithium-ion battery is scheduled to begin in 2009. The group's sustainability concept also includes fuel cell drive systems for commercial vehicles. The Citaro FuelCELL Hybrid city bus (see p. 9, Showroom), is equipped with two fuel cell systems that are identical to those in the B-Class F-CELL.
Daimler's fuel cell fleet has so far been driven a combined total of 4.4 million kilometers under everyday conditions. Additional vehicles will follow. Ten of the latest generation fuel cell buses and 20 B-Class F-CELL vehicles will hit the streets of Hamburg, Germany, in 2010. And by 2015, as many as 1,000 fuel cell vehicles could be under way in Hamburg — provided there will be more public hydrogen filling stations than the four that have initially been planned. This is why Daimler is supporting establishment of the required infrastructure; such activities are also part of the concept for sustainable electric mobility. This concept is also being developed in a cooperative effort by the business and scientific communities. The Karlsruhe Institute of Technology (KIT) and Daimler established the "e-drive Project House" in late 2008, for example. This unique pooling of electric drive expertise is expected to significantly accelerate the time it takes to bring new electric and hybrid vehicles to market.
Long-term support Daimler is also involved in the National Electromobility Development Plan of the German federal government, which has incorporated this topic into its energy and climate program. "Electromobility is also an integral component of our drive system strategy," says Herbert Kohler, Vice President E-Drive & Future Mobility. "Our experience with emissions-free driving is more comprehensive than that of any other automaker worldwide, so we will provide longterm support to this initiative."
90 sec. with HERBERT KOHLER (Herbert Kohler is Vice President E-Drive & Future Mobility in Group Research & Advanced Engineering at Daimler, which is developing technologies including battery-electric and fuel-cell drives.)
Mr. Kohler, the three BlueZERO concepts all have different ranges. In the future, will customers have to decide whether they need their car for city, intercity, or long-distance driving before they make a purchase?
No. The three concepts demonstrate three different drive technologies. We will never achieve the long ranges of today's touring sedans in pure electric mode, but the range extender gives you total flexibility. The only thing limited here is the emissions-free range. In the medium and long term, you will be able to cover the same distances with a fuel cell as you can now with internal combustion engines.
Do you see a need for concrete steps to address the everyday practicality of electric and fuel cell vehicles?
Besides the affordability of electric and fuel cell vehicles, there are two concerns above all: First, customers need to feel certain that a sufficient infrastructure in terms of recharging and hydrogen filling stations will be available to them. Second, Europe-wide standards need to be established to ensure that you can fill up and recharge in France, Hungary, Norway, or Greece.
How can Daimler help to solve these problems? Some of them are beyond your control.
- In the pilot projects on which we collaborate with partners, each party contributes its know-how and expertise so that together we can offer practical solutions for our customers. As our collaborations with RWE show, we are on the right track with our involvement.
So far internal combustion engines have been a key technology for Daimler. Will you also produce electric motors and batteries in the future?
- As far as batteries are concerned, we'll decide step by step. Don't forget that the entire automotive industry is facing a paradigm shift — from fossil energy sources in internal combustion engines to electrification and beyond to zero-emissions fuel cell drive systems. We are well-positioned with internal combustion engines and electric motors. Our internal combustion engines are subject to a continuous improvement process. We have successfully put electric vehicles on the road in a number of pilot projects. To devote even more attention to electrification, all R&D activities in this field were consolidated at the beginning of April 2009 in the E-Drive & Future Mobility unit, which I head.