Mopar Puts "Muscle" on Display at 57th Detroit Autorama
Paying homage to its Mopar® brand heritage at this year's 57th Annual Detroit Autorama trade show, hot rod and muscle car enthusiasts are in for a treat at the Chrysler LLC display, at Cobo Center in Detroit.
America's fondness for fast cars was addressed by Dodge during the "muscle car" era of the late 1960s and early 1970s. Placing large V-8 engines in intermediate-size cars with optional levels of accessorizing brought drag strip-styling and high performance to thousands of car buyers. For the Detroit show, notable Dodge nameplates from the muscle car period on display include the Super Bee and the Challenger.
In addition to the iconic vehicles that will be showcased at Detroit Autorama, Mopar will kick off the third year of its "Top Eliminator" awards for best-in-class enthusiast-built vehicles. Mopar representatives will choose a meticulously customized and modified vehicle at the event, which will be one of six vehicles chosen at popular enthusiast and car collector events nationwide. The vehicle will be displayed in Mopar Alley at the 2009 SEMA Show, Nov. 3–6, in Las Vegas.
1970 Dodge Super Bee This vehicle was given to a trade school in Indiana in 1971 for mechanic's training, and in 2004 it was returned to Chrysler Corporation with less than 400 miles. Mopar and Mopar licensees supplied the following materials: clutch, pressure plate, console wood graining, emblems, hub caps, side stripes, camshaft, lifters, springs, timing chain and oil pump. The 1970 Dodge Super Bee features a 383 cubic inch V-8 engine and an 833 four-speed manual transmission. The interior features bucket seats, a pistol grip shifter and console. The exterior showcases a B-5 Blue paint scheme, vinyl top and blue "C" stripe, all riding on Goodyear polyglass tires.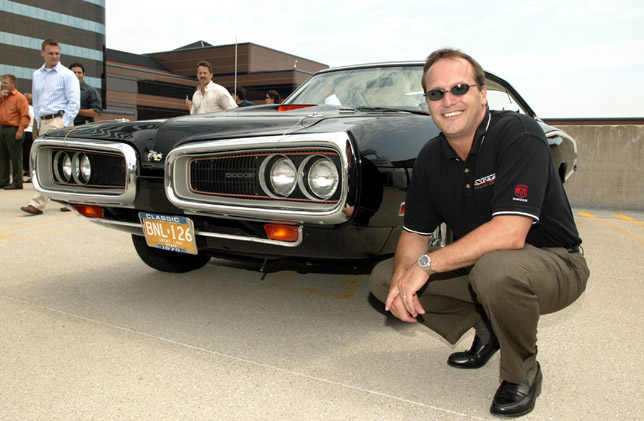 1971 Dodge Challenger Convertible Restored from late 2004 through mid-2007, Bob Horton, president and CEO of Trademarketing Resources Inc., Chrysler's restoration parts licensing agency, used only original factory, Mopar and Mopar Performance, New Original Stock (NOS) or Mopar official licensed restoration parts, including parts from 25 different Chrysler licensees. Features include a 440 six-pack engine with an aluminum Edelbrock intake, powder-coated ATI headers with 2 ½-inch exhaust and a Mopar Performance electronic ignition. The transmission includes an A727 three-speed automatic with 2800 stall-speed torque converter. The interior features a rallye-dash, power windows, leather seats, "Tuff" steering wheel and full center console. The exterior sports a hand-rubbed Plum Crazy base coat, clear coat lacquer paint with an original style black non-R/T stripe and power convertible top.
Dodge Challenger Drag Pak by Mopar The Dodge Challenger Drag Pak features a retro Stone White paint scheme and will be displayed on the Mopar Image Center Stage. The first drag-race-only factory package car to be built in 40 years, since the 1968 HEMI® Dart/'Cuda vehicles, this car was built for sanctioned NHRA Stock, Super Stock and Comp Eliminator drag racing. It is based on the Challenger SRT8® and finished in Stock Eliminator configuration. Mopar reduced vehicle weight by approximately 1,000 pounds versus the production Challenger SRT8 by eliminating selected production components and systems. To accentuate weight savings, the Challenger Drag Pak features unique drag-race components including: composite lift-off hood with functional scoop, Viper-style front seats, polycarbonate door windows, lightweight cooling module with electric fan, manual rack-and-pinion steering, special cable-operated deck lid release, special lightweight front brake assemblies and special cable-operated throttle linkage and pedal assembly.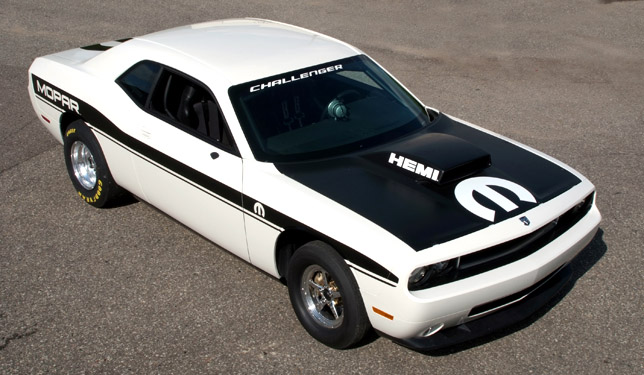 2009 Dodge Challenger R/T loaded with Authentic Dodge Accessories by Mopar The Silver Challenger R/T offers the latest in Dodge Accessories and Performance Parts from Mopar. Starting with a 5.7-liter HEMI V-8 engine, Mopar components were added to the vehicle including a Cat-Back™ exhaust system and cold air intake to provide a "throatier" exhaust note and increase horsepower. The interior has been enhanced with Katzkin leather seats and a Mopar Kicker audio system complete with an amplifier, 400-watt subwoofer and front and rear speakers for premium sound. The addition of a T-handle shifter and bright pedal kit capture the Mopar attitude. The body stripe decal kit and historically inspired TransAm (T/A) hood pay homage to the Dodge heritage while the rear go-wing spoiler and the 20-inch polished wheels match the Challenger's sporty appearance. Mopar style and attitude are also captured under the hood with a carbon fiber engine cover, coil-over suspension kit and strut tower brace.
2009 Dodge Ram 1500 Sport packed with Authentic Dodge Accessories by Mopar The all-new Dodge Ram 1500 is equipped with the latest Accessories and Performance Parts from Mopar. The addition of Mopar components, including a Cat-Back exhaust system and cold air intake, allow the 5.7-liter HEMI V-8 to breathe easy. A Mopar Kicker audio system and head restraint DVD system provide premium sound and entertainment while uconnect web™ turns the vehicle into a WiFi hotspot. The interior has been enhanced with Katzkin leather seating and heated seats provide optimal comfort with three heat settings. A performance-inspired unique hood, 20-inch cast chrome wheels, chrome fuel filler door and chrome grille insert all pay homage to the Dodge heritage while the body-colored front air dam and bed accents provide an aggressive stance. Dodge Accessories including trailer tow mirrors, a tri-fold tonneau cover, BedRug, cargo bed lighting, hitch cover, locking gas cap and spare tire lock all provide function and convenience to complete the ultimate Dodge Ram 1500.