More Comfort, Better Handling Carlsson Monobloc 1/11 Ultra Light Cast Wheel
Merzig, Germany - Carlsson expands its Ultra Light wheel family with the 11-spoke monobloc wheel 1/11 Ultra Light. It is weight-optimized, available exclusively in 21", and boasts an elegant two-part design. But because looks aren't everything, it also improves road-handling properties. As one of the world's lightest wheels of its size you'll notice its positive impact on comfort and handling.
High tech cast wheel 1/11 Ultra Light
The surface of the multispoked wheel 1/11 Ultra Light has a glossy finish and is coated with a highly transparent varnish to ensure that its sparkling, polished appearance always looks its best. The sides of the spokes exhibit a brushed finish, providing an elegant contrast to the surface. Screws around the wheel give a sporty, multifaceted look.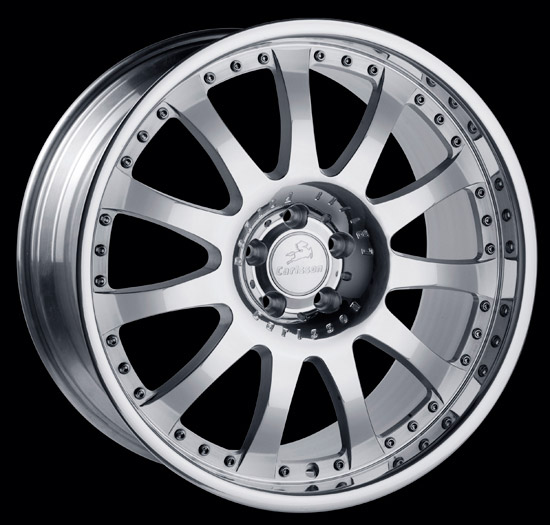 Even spacing of as many spokes as possible help distribute the forces acting on the wheel equally. This prevents wall thickness of the spokes from being overly high and helps achieve the ideal wheel weight. Our use of the most modern forging techniques result in a wheel weight that is ca. 40 % lighter than that of cast wheels with the same size and load. Unsprung mass on the wheel suspension is kept as low as possible. This minimizes wheel bounce and increases surface contact. That's why Carlsson forged wheels offer a significantly more comfortable ride than traditional light metal wheels, which is especially noticeable on uneven surfaces and with vehicles that use air suspension. The handling is better as well. The vehicle reacts better to steering and it is more agile.

Due to advanced forging technology, the Carlsson wheel 1/11 UL – despite its low weight – is extremely sturdy and boasts a maximum wheel load of 750 kg, which predestines it for use with heavy, powerful vehicles. That's why Carlsson offers the wheel in 9x21" (front axle) and 10.5x21" (rear axle) for the S Class (W221/V221 except 4-Matic) and the CL-Coupe (C216).