Morgan Unveils Unique SP1 at Salon Privé [VIDEO]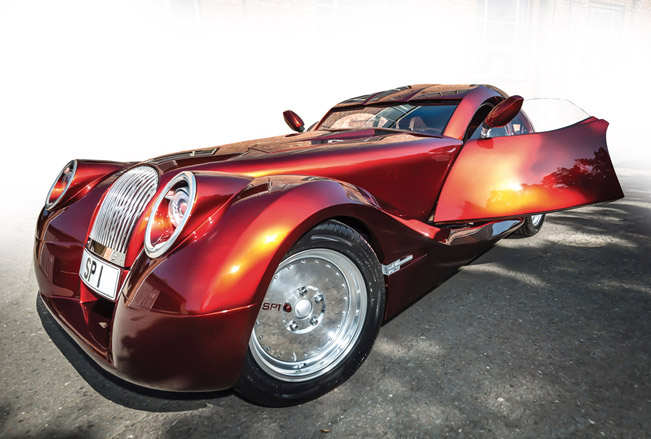 Morgan SP1 is a one-off vehicle which will be launched at Salon Prive. SP1 stands for Special Project 1 and it is the first creation of the newly formed Morgan Special Projects Division. The car exudes every aspect of the skilled craftsmanship applied at Morgan. SP1 is inspired by the 2009 LifeCar concept vehicle, however, its body has been entirely redesigned and now has enhanced proportions and on-road presence.
This Morgan car has a rigid steel chassis and is powered by the naturally aspirated 3.7 litre Ford V6 engine. In addition, it also features new suspension setup, bespoke Engine Management System and custom sports exhaust. These elements improve significantly the driving dynamics of the SP1.
Furthermore, for the wooden frame of the coach-built body, the team utilized Ash Wood, combined with African Bubinga Red Hardwood, which was specifically chosen by the client. Between these two woods there is a tonal contrast, which is most apparent in the joints that hold each part of the frame together.
SP1 is covered with a striking multi-coat paint finish. The aluminium body has been hand formed over a wooden 'egg box' construction, using an English wheel. To ensure structural and aerodynamic excellence, cutting-edge digital design and simulation tools were used to prove surface styling prior to lengthy fabrication.
After the car has been armed electronically, a sequence of roof mounted toggle switches are flicked to 'prepare for flight' before a final toggle switch starts the engine. Inside, the SP1 includes an infotainment system, which is managed via an iPad that has been installed in the fascia. Take a look at the video below to see and hear the exciting stories of the team at Morgan around this project.
Video Source: YouTube
Source: Morgan