New Morgan Roadster 3.7
Morgans have always been about the nostalgic spirit of classical roadsters and coupes. That is why almost all of the current Morgan cars look like as if they have been stolen from a collector's garage. They are for people who would love to take a ride around the country side in a real time machine. No, really, they can go fast enough to throw you back to the past because underneath the hood one won't find a grandfather's clock but a masterful modern engine. The Morgan Roadster is no exception from that rule - techy performance concealed in an old-school shell.
Power comes from a Ford 3.7 Cyclone V6 engine that develops 280 hp at 6000rpm and 352 Nm of torque. A Ford six speed manual gearbox on the other hand, crunches those numbers into sheer force on the tarmac. Keeping in mind that this car weights only 950 kg, the engine propels it to 60mph from a stand still in just 5.5 seconds. Mighty brisk! That is why the suspension is also clever enough to keep the car on the road – there's a limited slip differential with cone drive for that extra grip and sideways buffoonery.
Inside, leather welcomes you to strap yourself in and enjoy the dashboard blend of digital and analogue dials – a surreal combination of both worlds. Most of the instruments are framed in woods which is just an example of how exotic this car really is. The convertible roof, although not automatic, is easy to install and creates a warm and private atmosphere.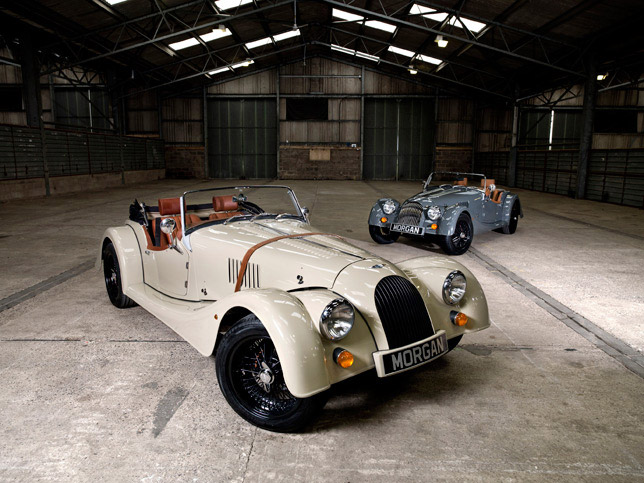 Source: Morgan