MR Car Design Renault Clio RS
Everything is already said with a considerable certainty, notably written about the Renault 5 - P5 for the experts, which was being produced from the spring of the 1972 till the end of the 1996. Renault Clio with a little bit bulky in-plant description of the 57 type replaced the second generation of this P5 somewhere in the middle of the 1990s. There are also 3 and 5-door Clio from the third generation as the station wagon (Kombi), but in the version of the one with the trunk behind the rear body named Thalia. The additional abbreviation RS for Renault Sport (Renault Sport) is typical for the French, as well as the legendary concept of a large number of turns, despite the fact that the other competitors have been using the turbo-charger for a long time.
This Renault Clio RS - originally equipped with not the weakest motor - the MR Car Design company from Erftstadt gave the additional "life" in spite of or because of the fact that the professional press has already confirmed in 2009 that the experimental model has a purely designed framework, targeted and reliable brake system, the easily switched gearbox and the excellent seats. The reworked wheel-tire combination of discs of 8x18 inch size with the Michelin tires of the 225/35-18 size along in the combination with the thread of the running gear of the 3 version can instill confidence. The welded collector, the 200-cell metallic catalyst, as well as the Akrapovic-Evolution-System Kat device are also worth of mentioning.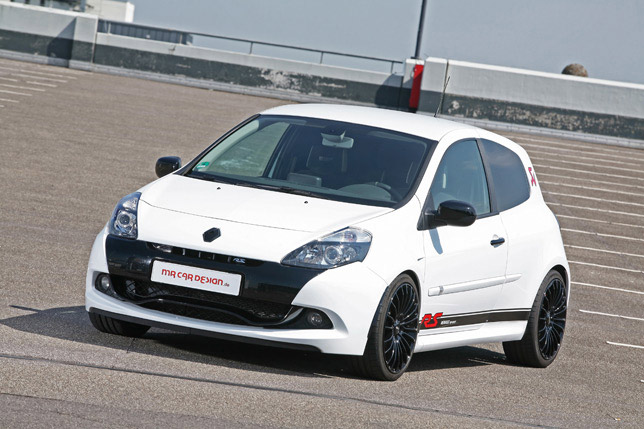 The total capacity increase due to the removal of the exhaust gases, welded collector, the metallic catalyst and MP software optimization on the stand for the determination of the serial capacity increases the capacity up to 220 hp. By the way, you can always contact Marcel Reil and his team for the information. The www.MRPerformance.de site contains a lot of preliminary information for those, who are in a hurry.
Source: MR Car Design