Nokian Tyres Audi RS6 - 335.7 km/h on ice [video]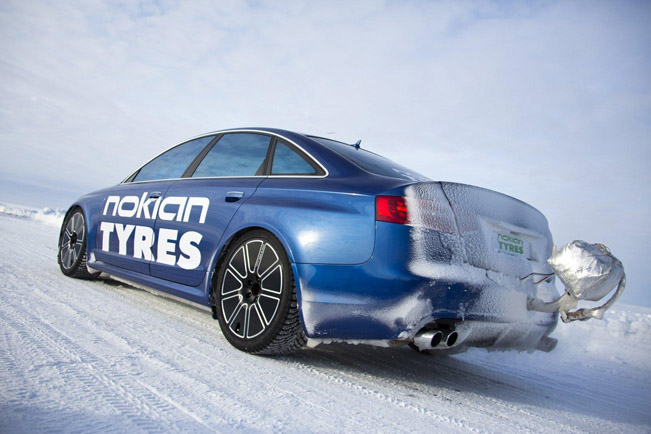 Nokian Tyres has published a new video in Youtube showing, which is the best winter car tyre manufacturer. Grip and speed like never before were ensured by the new spearhead product for the world's leading manufacturer of winter tyres – the Nokian Hakkapeliitta 8 studded tyre - 255/35R20 97 T XL.
The performance saloon (Audi RS6) managed to hit an average speed of 335.713 km/h (208.6 mph). The new world record was achieved on 9 March near the city of Oulu, on an 12-kilometre (7.5 mile) track created on the ice of the Gulf of Bothnia.
The Guinness organisation defines specific rules for the world record for driving on ice. The time for the one-kilometre distance is measured in both directions. The world record is an average of these two measurements. The vehicle takes a flying start, and the allowed time to achieve the record is only one hour. The ice must be natural, and it must not be roughened or treated with chemicals. The tyres must be commercially available and approved for road use in the country where the record is made.
Enjoy the video!
Source: Nokia Tyres via Yoytube