Oettinger Volkswagen Golf GTI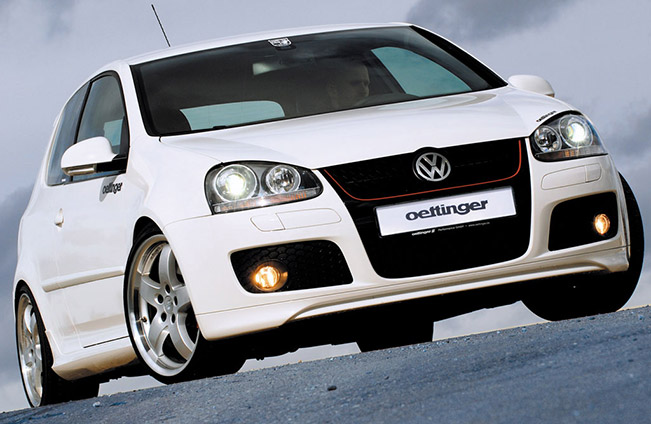 Powered by a detuned version of the new 2.0 T-FSI power plant from the current Audi S3, the limited edition Volkswagen Golf GTI Edition 30 is, with 230 hp (DIN), already well powered. OETTINGER, the Audi and Volkswagen specialist from Friedrichsdorf, who participated in the success of the original GTI in 1976 with the worldwide first 16V engine, now offer the owners of such vehicles a considerable portion of additional power available in 2 stages. 30 years later it is once again the OETTINGER version which shows the remaining members of the special edition clan a clean set of rear lamps. Power junkies now have the choice between two power levels:
Stage I helps the anniversary model to an astonishing 305 hp (DIN) and a torque of 400 Nm / 295 lb/ft with a new engine mapping which is loaded via Direct-Port-Tuning (Programming over the OBD-II port), and that for only EUR 1,390.00 incl.
TÜV entry in the vehicle documentation. This is surely unbeatable value for money. The compact Wolfsburger now storms to 100 km/h (62 mph) in only 6.2 seconds and the acceleration doesn't stop until it reaches 252 km/h (158 mph)!
With Stage II, the modified engine management is supported by a larger intercooler, modified intake tract and the OETTINGER carbon "ram air" intake. In addition, the engine also releases its waste gases via an OETTINGER stainless steel sport exhaust system; This highly polished system consists of a rear and middle silencer. The result is 330 hp (DIN), 430 Nm (317 lb/ft) torque, 0-100 km/h (0-62 mph) in 5.9 secs. and a Vmax of 258 km/h (161 mph). The additional 100 hp can be had from OETTINGER for EUR 3,450.00 including TÜV entry in the vehicle documents.