Opel Corsa OPC Nurburgring Edition
Opel has just announced an even more powerful, stunning, limited edition of its small Corsa OPC model dubbed Opel Corsa OPC Nurburgring Edition.
With only 500 examples planned to leave the assembly line, the Opel Corsa OPC Nurburgring limited edition is aimed at offering fans a uniquely rare blend of raw power, performance and passion. In its power compartment, the ride houses a modified ECU and turbocharger systems, a sports exhaust unit with reduced back pressure, and optimization for 100 octane fuel, thanks to which a completely new total output is achieved - 210 horsepower (154 kW) and 280 Nm of maximum torque. With this performance, Opel Corsa OPC Nurburgring is fully capable to accelerate from standstill to 100 km/h in just 6.8 seconds, on its way to a top speed of 230 km/h.
In order to keep up with the new performance heights properly, the Corsa OPC Nurburgring Edition features a mechanical, multi-plate limited-slip differential, Bilstein springs and dampers, Brembo braking system, as well as re-tuned ABS, Traction Control and Electronic Stability Control.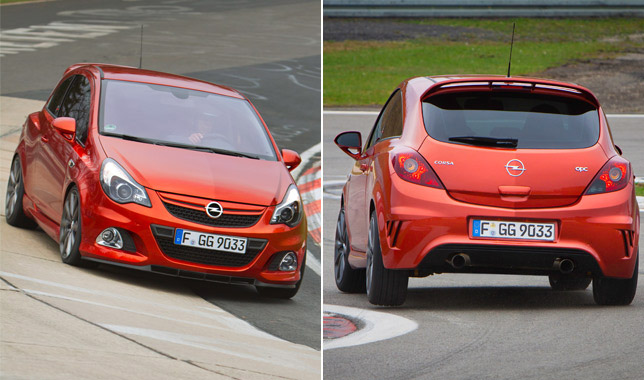 Visually, the Nurburgring Edition Corsa differs from the Corsa OPC by a newly added set of 18-inch, forged aluminum rims in high-gloss grey fitted in 225/35 R 18 V tires, a front spoiler lip and a new dual exhaust in stainless steel. In addition to these cosmetic extras, the special model also available with a choice of two new, exclusive body colors – apple-green 'Grasshopper' and red 'Henna'.
Opel Corsa Nurburgring Edition is price tagged at recommended 27.650 euros (incl. VAT in Germany).
Source: Opel